Virginia state trooper, gunman killed in shooting at Greyhound bus station
A Virginia state trooper and gunman are dead after a shootout at a Greyhound bus terminal in Richmond Thursday that wounded two others, state police said.
Virginia State Police Superintendent Col. Steven Flaherty said Trooper Chad Dermyer, 37, was shot multiple times near the restrooms of the building.
Flaherty said investigators don't know what sparked the shooting. Dermyer had been participating with about a dozen other troopers in a training exercise at the bus station when a brief encounter with the gunman quickly turned violent, he said.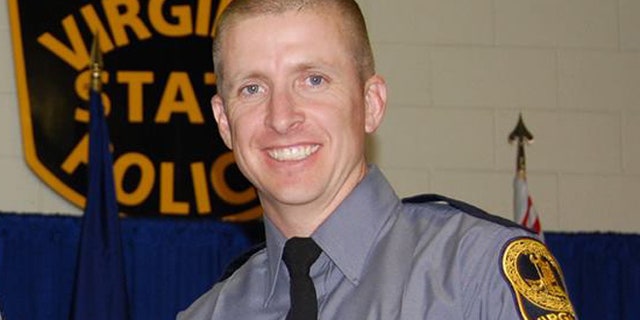 Dermyer was dressed in a fatigue-style uniform and was not wearing a protective vest, the superintendent said.
"We've got a lot of evidence to sift through," Flaherty said. The evidence, he said, included bags that could have belonged to the gunman.
The gunman's identity was being withheld until his family could be notified.
Two civilians were hurt in the incident, though it was not clear if they had been shot, according to Virginia State Police spokeswoman Corinne Geller.
"The first thing we saw were police cars flying by, then officers in riot gear running with weapons," Vincent Smith, an employee at a nearby U-Haul storage facility, told the Richmond Times-Dispatch. Other witnesses reported hearing as many as 10 shots.
Virginia Commonwealth University Medical Center confirmed that multiple patients from the shooting scene were brought to the hospital.
The bus station is three miles north of VCU's downtown Richmond campus, and across the street from The Diamond, the city's minor league baseball stadium.
Vincent Smith told The Associated Press he was working next door to the Greyhound station when he heard sirens and saw police cars buzzing by.
"The police units just poured in like a river," said Smith, who works at the U-Haul Moving and Storage facility. "I went to the end of the lot and there must have been 30 units just a block away."
Smith said he saw police officers carrying shields and assault weapons. An officer came by and ordered him and his co-workers to stay inside and lock the doors until they're told it was safe again. By late afternoon, he said he had been locked inside for about an hour and a half.
Najee Wilson, 18, of Newark, New Jersey, told the AP his bus was pulling up to the station when he heard three gunshots and saw people running out of the building.
"We heard a lot of people screaming," Wilson said. "It definitely was a scary experience."
Wilson, who was en route to Atlanta, was among about 200 travelers waiting to board buses at a staging area set up a few blocks from the bus station after the shooting.
Greyhound said in a service advisory on its website that the bus station will be closed until further notice, and that service in and out of Richmond has been canceled.
Greyhound added that it will re-route customers where possible.
Officials from the Bureau of Alcohol, Tobacco, Firearms and Explosives told Fox News that agents from its Richmond field office are on scene at the bus station to assist authorities in the investigation of the shooting there.
Fox News was also told by an official that the FBI's Richmond field office is also assisting in a support capacity, while the Virginia State Police is leading the investigation.
Virginia Gov. Terry McAuliffe said in a statement Wednesday he is offering whatever state resources "may be necessary" to respond to the situation.
"Our public safety team and I will continue to monitor the situation and support State Police and local authorities in their response and investigation of this incident." he said.
City Councilwoman Reva Trammell called it "the saddest day in the city of Richmond."
"State troopers doing their job and innocent people shot," she said. "Why? This was a senseless act."
Fox News' Matt Dean and The Associated Press contributed to this report.