Violence breaks out at Georgia Tech after vigil for student killed in police shooting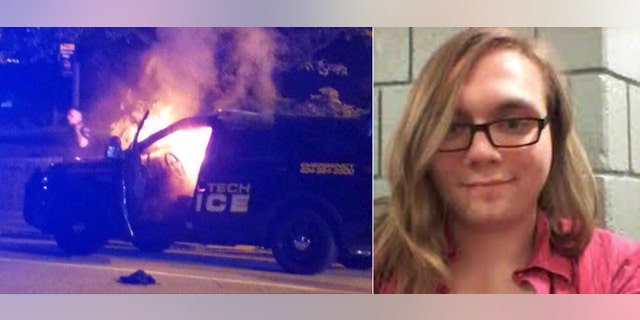 NEWYou can now listen to Fox News articles!
Violent protests broke out on the Georgia Tech campus Monday night, with one police car set on fire, after a vigil for a student shot and killed by a police officer.
Scott "Scout" Schultz, 21, was pronounced dead Sunday morning. Police said an officer shot the student Saturday night after Schultz refused to drop a knife. The student's family claimed the officer overreacted.
After the Monday night vigil, at least one protester reportedly tossed a flare into the police vehicle, setting it ablaze.
Video on social media showed smoke billowing from the police car, with crowds of people on the streets. It also showed a young man running, with a police officer chasing him, ending with the officer tackling him to the ground. Its unclear what led to the altercation.
University officials have told students to avoid Hemphill Avenue and stay inside. They tweeted, "Take Immediate Action Now!"
Video of the incident Saturday night showed Schultz barefoot, holding an object in his hand, WSB-TV reported. The student was heard yelling, "shoot me" to the officers.
"Drop the knife! Drop the knife!" the officers shouted back.
"Nobody wants to hurt you ... Drop the knife," the officer repeated.
Schultz was a fourth-year computer engineering major and president of the Georgia Tech Pride Alliance, according to USA Today.
The Georgia Tech Pride Alliance said it was "saddened" by the death, in a statement released on Sunday.