Vigil held for Va. boy who reportedly died defending sister from teen's attack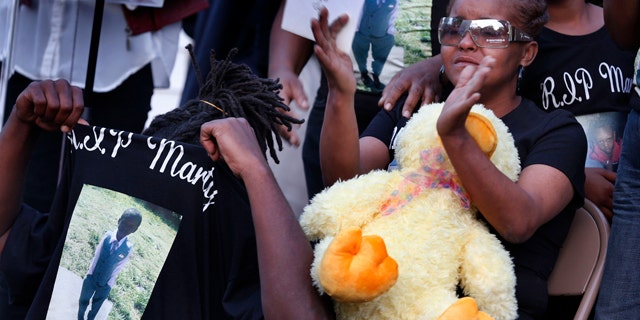 Hundreds of people paid tribute to an 8-year-old Richmond, Va. boy whom family members say died trying to protect his older sister from an attack by a teenage boy.
Martin Cobb was reportedly hit in the head with a brick during the attack near his family's home Thursday, neighbors told The Richmond Times Dispatch. Richmond Deputy Commonwealth's Attorney Mary E. Langer said she could not confirm a brick was used but police told her Martin suffered severe head trauma.
The 12-year-old girl was taken to a hospital with injuries that were described as non-life-threatening. "As far as I know, she's doing fine. . She's doing better. She's OK," the siblings' aunt, Geraldine Pitchford, told the newspaper.
Before the vigil began, loved ones gathered around a sign in Martin's yard near the church. "Martin: A real hero lived, fought and died here," the sign said.
The 16-year-old boy was charged with murder and strangulation, police said in a news release. Authorities said he intimidated and threatened the girl and she initially gave authorities the wrong description of her attacker. Police have not released the suspect's name because he is a minor.
Pitchford described Martin as warm-hearted and friendly and said he was often playing with his sister outside.
"I'm proud of him. I'm proud that he stuck up for his sister. He did what he was taught," she said.
Pastor Dr. Theodore L. Hughey of the Abundant Life church said the boy, also known as "Marty" and "Little Martin," and his sister were inseparable and "always in and out" of the church.
"You saw one. The other was there. They were never apart," Hughey said.
"He had a heart of a lion," said neighbor Andrew Patillo. "He stood so tall, to be so small."
The Associated Press contributed to this report.