Video catches alleged cookie-snatching squirrel taunt police as they retreat in hysterics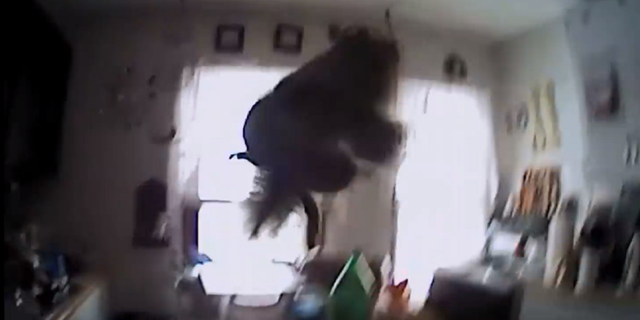 Police outside Rochester, N.Y., couldn't help but laugh while they attempted to apprehend an alleged cookie-eating, trespassing squirrel from a woman's home.
The Brockport Police Department, who caught and shared video of the incident on Facebook on Friday, said two of its officers were responding to the home of a woman who claimed a squirrel "had broken into the house" and was "reportedly eating cookies in the kitchen."
POLICE RESCUE BABY SEAL WADDLING DOWN A MASSACUSETTS HIGHWAY
"Officers Sime and Dawson arrived on scene but were not at all expecting the warm welcome they would receive from the squirrel," the post said.
Police entered the house to the sounds of blasting music from the radio, which the homeowner claimed the squirrel had turned on.
Moments later, the thieving critter jumped down from a hiding spot near the ceiling and hurtled toward the approaching officer, crashing into things along the way.
'OBESE' SQUIRREL CAUGHT STEALING CANDY FROM NEW JERSEY HOUSE
The officer fell back as he was hit with a handful of squirrel and turned to retreat with his partner. The two were heard laughing hysterically as they made their way out and the proud rodent scurried back through the kitchen, possibly to find more snacks.
Police said the "uninvited guest" eventually was caught and released unharmed.
"Brockport Police will always go the extra mile to help their residents," the department wrote.