Utah mom killed, daughters injured when teen boy driver swerves into oncoming traffic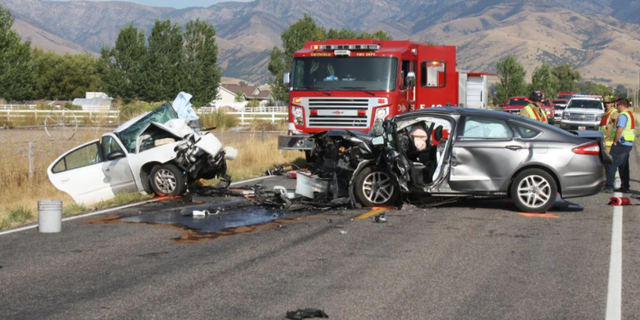 A Utah mother was killed and her two daughters were injured on Saturday after a 15-year-old driver veered out of his lane and crashed into the family's vehicle, officials said.
The 15-year-old boy, who had a learner's permit, was driving near Smithfield when he veered out of his lane and into oncoming traffic about 3:40 p.m., FOX13 reported. The woman's vehicle slammed into the teenager's Ford Fusion, crumpling the white car.
The woman, identified as Samantha Perkes, 28, was killed on impact. Her two daughters, ages 4 and 7, were sitting in the backseat of the car and suffered minor injuries. They were hospitalized and later released.
The teenage boy was also injured in the crash. He was airlifted to the hospital.
It's unclear how the boy lost control of his vehicle. The teenage boy was the only person in the vehicle. Utah law requires drivers with a learner's permit to be accompanied by an adult, Utah Highway Patrol said.