USDA bought meat from slaughterhouse under investigation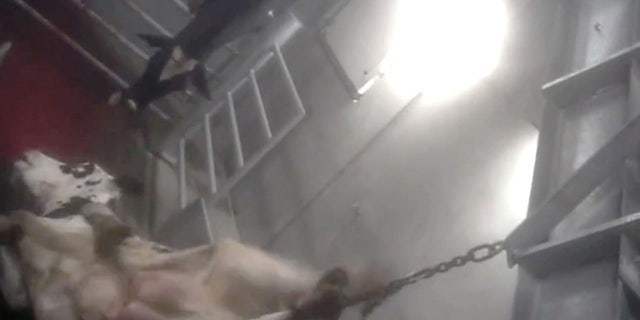 NEWYou can now listen to Fox News articles!
FRESNO, Calif. – A California slaughterhouse under federal investigation for cruelty and possible health issues sold 21 million pounds of beef to the federal government in 2011 for use in school and other nutritional programs, records show.
Federal officials said nothing they have seen so far on undercover video shows meat from cows that may have been sick or lame making it into the food supply, but interviews with employees were ongoing.
Records show the government made five large-scale purchases of ground and chunk beef from the company in 2011, spending a total of more than $50 million.
USDA spokesman Justin DeJong said he did not know to which government food programs the beef was allocated.
"I know that 21 million alone did not go to school meals, but I'm going to keep working on getting information," DeJong said.
The U.S. Department of Agriculture acted quickly to shut Central Valley Meat Co. of Hanford on Monday after an undercover video showed inhumane treatment of animals.
The video was shot by Compassion Over Killing. The animal welfare organization's operative was hired by the slaughterhouse and has given a written statement to USDA investigators.
Federal regulators said they were investigating whether beef from sick cows reached the human food supply.
The video appears to show workers bungling the slaughter of cows struggling to walk and even stand. Under federal regulations, sick animals cannot be slaughtered for human consumption.
The investigation will determine whether sick cows were slaughtered and whether meat products from the company should be recalled, the USDA Food Safety Inspection Service said.
The footage shows animals bleeding and thrashing after being repeatedly shot in the head with a pneumatic gun in unsuccessful efforts to render them unconscious for slaughter.
Federal regulations say that to avoid unnecessary suffering during slaughter, animals must be rendered unconscious by a single shot to the head from a pneumatic gun that fires a bolt through the skull to pierce the brain.
The USDA said late Tuesday that it found evidence of inhumane practices on the video, but the footage did not indicate beef from sick cattle got into the food system.
In-N-Out Burger, a fast food chain, severed its ties with the company after learning about the situation. Mark Taylor, chief operating officer, said Tuesday the company acted immediately upon becoming aware of it.
"In-N-Out Burger would never condone the inhumane treatment of animals and all of our suppliers must agree to abide by our strict standards for the humane treatment of cattle," Taylor said to The Associated Press in a written statement.
In-N-Out's agreement with suppliers also prohibits companies from shipping beef from sick animals.
Central Valley Meat Co., owned by Brian and Lawrence Coelho, declined to comment on the video, saying company officials had not seen it. On Tuesday, the company hired a public relations firm that issued a statement saying Central Valley Meat Co. is cooperating with investigators.
"Central Valley Meat takes these issues very seriously and is now developing a plan of action to present to (the Food Safety Inspection Service) to remedy any potential violations of USDA guidelines," the statement said. "Based on our own investigation and 30 years of producing safe, high-quality US beef, we are confident these concerns pose no food safety issues."
The USDA had at least two inspectors stationed at the site, and federal officials, when asked whether there was evidence the inspectors had neglected their duties, said the investigation is ongoing.