US troops seen setting up barbed wire near Mexico border
U.S. troops, along with Customs and Border Protection officers, have been working to secure sections of the Texas-Mexico border, in part by laying down barbed-wire fencing, as new photos show.
The protection reportedly includes roughly 1,000 feet of fencing along the Rio Grande.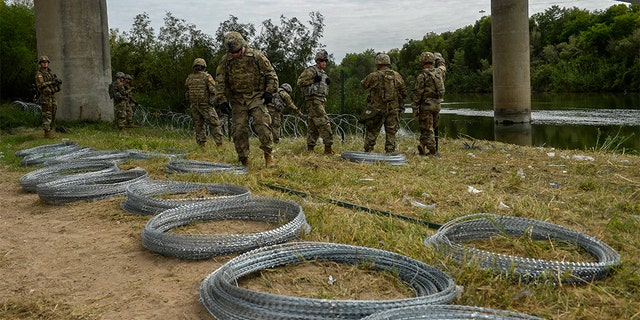 The barrier was installed near the Hidalgo Texas Port of Entry, underneath the McAllen-Hidalgo International Bridge, which crosses the river from Texas into Mexico. A Border Patrol spokesperson said the fencing was being used as part of "necessary preparations" as four caravans, which have grown to include some 12,000 Central American migrants in all, head toward the U.S. border.
$145M TEXAS BORDER WALL PROJECT AWARDED, CUSTOMS AND BORDER PROTECTION SAYS
President Trump, speaking at a campaign rally in Montana on Saturday, referred to the barbed wire as "beautiful" and said that "barbed wire, used properly, can be a beautiful sight."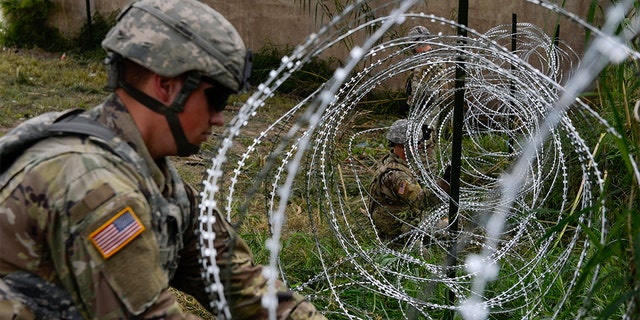 The Trump administration last week ordered the deployment of thousands of active-duty troops to support Customs and Border Protection Agents in Texas, Arizona and California in response to the caravans.
The president said last Wednesday that the number of troops deployed could reach 15,000, although the Pentagon put the number at 7,000 for now.
Fox News' William La Jeunesse and The Associated Press contributed to this report.