Migrant caravans swell to 12,000, get some help along the way
In the small town of Veracruz, Mexico, at a gas station and truck stop, two nuns began stopping big rigs Sunday to fill the trailers with waiting migrants from the caravan.
The caravan is trying to make 116 miles, a record for them, considering the first day walking in Mexico they traveled just 20 miles.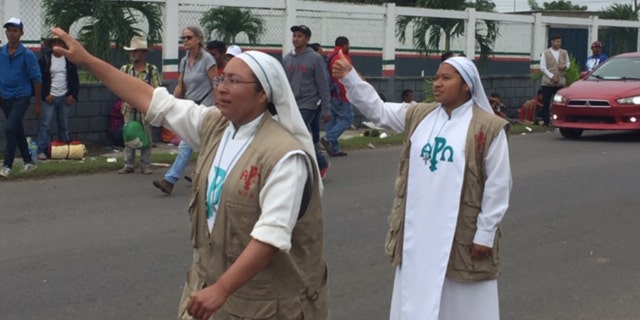 The Catholic nuns at the scene are from Guadalajara's Misioneras de Christo Resuscitado, and as a big red 18-wheeler approached, they flagged down the driver, stepped on the running board on the passenger side and spoke for about 5 minutes. The driver then gave a reluctant wave of the hand, one of the nuns spoke and dozens of young men ran to the rear to open the two tall metal doors.
An organizer appeared with a bullhorn, and loaded dozens of women and children and strollers inside. As soon as that truck left, with one door tied open, another approached. And again the nuns convinced him to fill his empty trailer with migrants.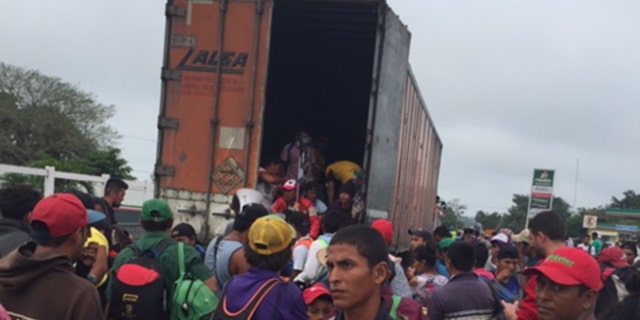 Their destination Sunday is Cordoba, the city of Puebla on Monday and Mexico City by Tuesday. Migrants say they are likely to stay in the capitol city three days before continuing on to Tijuana as a caravan. In Mexico City, they are tentatively planning on camping at Ciudad Deportiva Magdalena Mixhuca, a large space near the city's Formula One racing facility.
STUDY: TENS OF THOUSANDS OF MIGRANTS WORLDWIDE HAVE DIED IN DANGEROUS JOURNEYS SINCE 2014
Both the mayor of Cordoba and the governor of Veracruz tried to provide the caravan with buses, but were told by federal officials they could be prosecuted for human trafficking, so they withdrew the offer.
Four caravans are currently traveling inside Mexico, totaling some 12,000 Central American migrants.