Wreckage found after US Air Force F-15C jet crashes into North Sea; pilot dead
A British search and rescue team has found the wreckage of a U.S. Air Force F-15C Eagle that crashed into the North Sea off the coast of northern England during a routine training exercise Monday morning, as U.S. officials announced the pilot was dead.
The plane was part of the 48th Fighter Wing, based at Royal Air Force Lakenheath, located 70 miles northeast of London. The cause of the crash remained unknown.
The Air Force announced hours after the crash, "the pilot of the downed F-15C Eagle from the 48th Fighter Wing has been located, and confirmed deceased."
The statement added that it was a "tragic loss" for the 48th Fighter wing community, sending condolences to the pilot's family. The name of the pilot will not be released until all next-of-kin notifications have been made, officials added.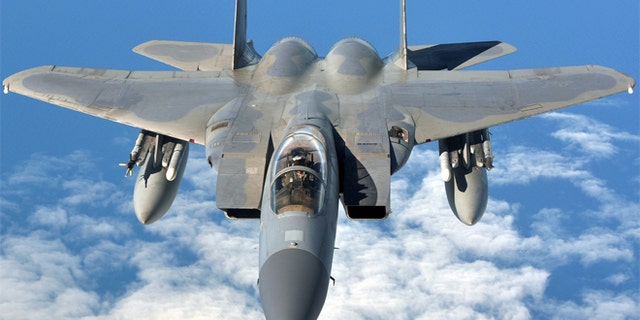 CLICK HERE TO GET THE FOX NEWS APP
The 48th Fighter Wing has played a key role in anti-terrorism operations, flying combat missions, and providing combat support in both Operations Enduring Freedom and Iraqi Freedom, according to its Facebook page.
RAF Lakenheath is the largest U.S. Air Force-operated base in England.