US Air Force Transports Rescue Teams for Nepal Earthquake Recovery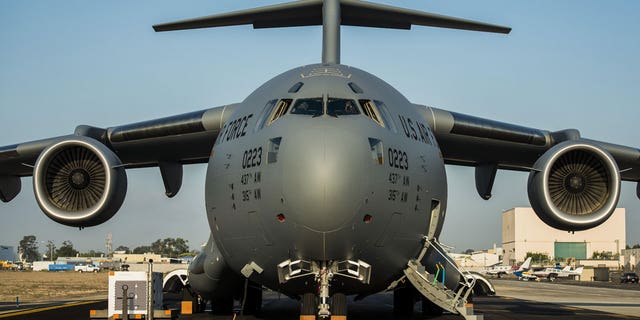 The U.S. sent additional rescue teams to Nepal Monday and announced $9 million more in aid as the death toll from Saturday's 7.8-magnitude earthquake neared 4,000.
An Air Force C-17 Globemaster flew from Joint Base Charleston, S.C., to March Air Reserve Base in California to pick up 57 members of the Los Angeles Fire Department's Urban Search and Rescue Task Force 2. The task force then flew Monday afternoon to Katmandu, Pentagon spokesman Col. Steve Warren said.
The Los Angeles firefighters will join about 50 members of the Fairfax County, Va., Urban Search and Rescue Team and a Disaster Assistance Response Team from the U.S. Agency For International Development which arrived aboard a C-17 at Tribhuvan International Airport in Katmandu on Monday.
Two Army Special Forces teams, totaling about 26 members, were already in Nepal on joint training exercises and were now assisting the Nepalese Army in rescue and relief efforts, Warren said.
Some of the Special Forces soldiers were assisting in rescue efforts for climbers on Mount Everest who were stranded at base camps by an avalanche triggered by the earthquake, Warren said.
Rescue and relief teams from China, Israel, South Korea and Pakistan were already on the ground in Nepal, where aftershocks and power outages in the densely populated Katmanduu Valley were hindering the aid efforts.
At the State Department, spokesman Jeff Rathke said four U.S. citizens were confirmed thus far as having been killed by the earthquake but the U.S. death toll was expected to rise.
Rathke said that the U.S. pledged $1 million in assistance to Nepal immediately after the earthquake and that Secretary of State John Kerry announced $9 million more in aid on Monday.
Rathke said the money would mainly go to providing heavy equipment such as tractors, forklifts and dump trucks to Nepal to aid in clearing rubble.
Nepal's Chief Secretary Lila Mani Poudyal told the BBC that his country was in crisis mode. He said there was a desperate need for "tents, dry goods, blankets, mattresses and 80 different medicines. We don't have the helicopters that we need or the expertise to rescue the people trapped."
-- Richard Sisk can be reached at richard.sisk@military.com