Unearthed photo shows Bonnie and Clyde's embrace right before bloody death
A newly-unearthed photo of Bonnie and Clyde depicts the murderous outlaws in a loving embrace days before they met a gruesome end.
The photo shows the legendary crime duo kissing in Joplin, Missouri, shortly before they were gunned down in an ambush.
The snapshot was part of an exhibit on the pair at the Photographs Do Not Bend (PDNB) Gallery in Dallas. Bonnie and Clyde gained notoriety for a two-year crime spree that started in 1932, during which they ruthlessly robbed banks and killed 13 people.
The pair, whose full names were Bonnie Parker and Clyde Chestnut Barrow, ran out of luck in 1934 when they were ambushed by police officers in Louisiana. Authorities unleashed 107 rounds in less than two minutes, killing the dark duo in their car.
WARNING: GRAPHIC CONTENT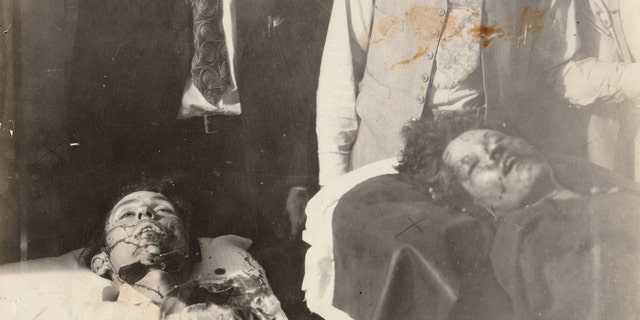 Parker and Barrow were 24 and 23 years old, respectively, at the time of their deaths.
The exhibit includes photographs of their bullet-sprayed car, of their bloodied bodies on a gurney and of the arresting officers, the Daily Mail reported.
Also in the collection is a copy of Barrow's criminal record, which includes this grim warning: "This man is very dangerous and extreme care should be taken when arresting him."
"Some of the photographs are gory, they were killed in a horrible manner, but they were killers, too – I'm like a doctor and look at them in a clinical way," Burt Finger, the gallery's director, told the Daily Mail.
He said the photos' previous owner acquired them from her uncle, who worked at a local newspaper at the time of the event.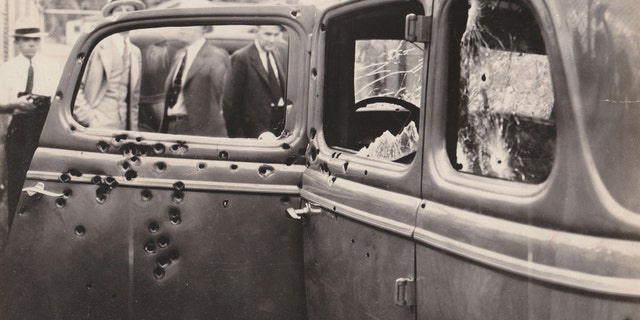 "There are certain outlaws that become iconic, like Billy the Kid, Al Capone and others, who live on forever," Finger said. "Bonnie and Clyde were certainly that. They were both handsome people, were nobodies, and they robbed banks at a time when banks were not loved by everyone."
He added, "The images are like a storyboard to a movie, but it reminds you that these were actual people aside from the portrayals and preconceptions."
A private collector recently purchased the photographs from Photographs Do Not Bend.