UC Merced College Republicans say they were harassed for anti-illegal immigration display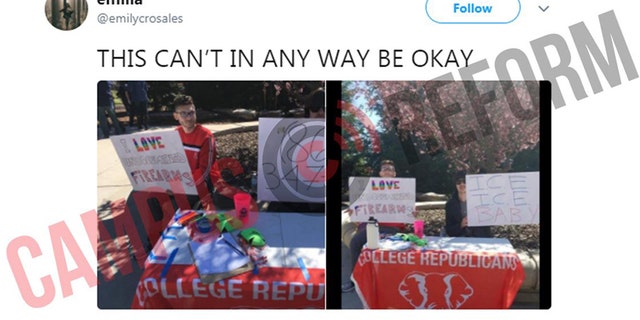 College Republicans at the University of California, Merced campus said they were harassed last week after setting up a provocative anti-illegal immigration display.
The conservative students said others on campus threatened them with violence and the administration not only failed to do anything about it, but condemned them as well.
The College Republicans incurred the wrath of several students after they set up a table on campus to promote an anti-illegal immigration agenda in the famously liberal state. The table had signs with slogans such as "I Love Undocumented Firearms" and "ICE ICE Baby," referring to Immigration and Customs Enforcement. It also had a phone number for federal immigration authorities.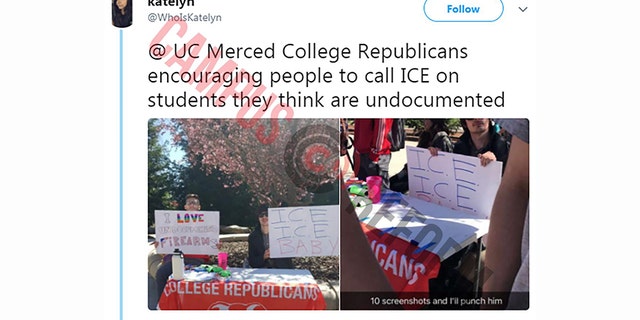 Students at the school, which prides itself for having a large number of students who are illegal immigrants, reacted angrily. A gaggle of student protesters confronted the Republican student group, chanting things such as "immigration, not deportation." The exchange grew so heated, police were eventually called.
And the attacks against the group didn't end there, the students said.
"10 screenshots and I'll punch him," one opposing student wrote on Snapchat.
"When I walk by and I see ICE, ICE Baby, I want to sock you all in your face," another protester told the College Republicans in a video posted on YouTube.
Members of the group said that, instead of trying to protect them, UCM Chancellor Dorothy Leland, a strong supporter of Deferred Action for Childhood Arrivals and sanctuary campuses, condemned them.
"It troubles me to think that some in our Bobcat family would wish harm upon [undocumented students] and that through their speech, they would deliberately introduce added stress and anxiety into their fellow students' lives," Leland said in the statement. "UC Merced remains committed to doing everything in its power to enable our undocumented students to pursue their education."
The chancellor boasts that the college has the most undocumented students on campus of any UC schools. She claims the College Republicans violated UC Merced's Principles of Community, saying the signs were "clearly intended to create an unwelcome environment for our nearly 600 undocumented students."
But members of the College Republicans say they were the ones who were actually subjected to "an unwelcome environment."
"Free speech is the foundation of an open society. A university is where someone challenges their beliefs by being exposed to differing ones," UCMCR President Harrison Duran told Campus Reform. "ICE maintains order and ensures that the rights of citizens do not come after the rights of those from a foreign nation."
UCM spokesman James Leonard defended the chancellor's statement. He said the provocative signs by the College Republicans were not trying to start up peaceful discussions on campus – but instead were hateful messages intended to intimidate and inflame students on campus.
"Many members of our campus community are concerned that some recent actions went beyond the expression of political views and rose to the level of direct threats to individuals," Leonard told Fox News. "Any claims of direct, personal threats — by anyone, against anyone — will be investigated by campus administration to determine whether the Code of Student Conduct was violated."