Two days after NYPD cop gunned down, anti-cop rally held in Times Square
NEWYou can now listen to Fox News articles!
Just two days after a career criminal allegedly gunned down NYPD officer Randolph Holder in East Harlem, and with his fellow cops still mourning, anti-police activists took to Times Square on Thursday to protest "police terror and murder."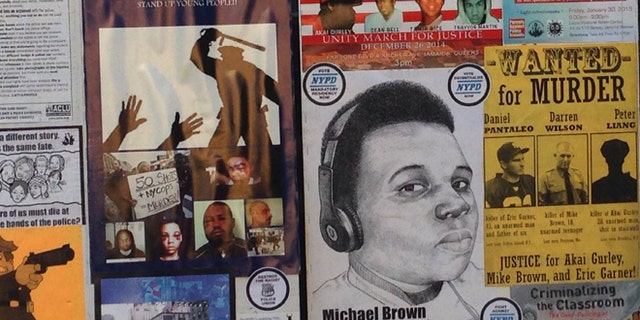 Holder's murder on Tuesday night made him the fourth NYPD officer to die in the line of duty in the last year, which has also seen anti-police groups call for killing police. But the demonstrators who carried signs at 47th street and Broadway decrying "victims of police murder" seemed oblivious to the trauma felt throughout the city after Holder, an African-American and second-generation police officer, was killed trying to protect New Yorkers..
"People have had enough of the anti-cop protest, and it's time these people go get a job and find a different agenda," Sergeants Benevolent Association President Ed Mullins told FoxNews.com. "It's just the arrogance of the whole thing. This is a naysayer group. If there's a bit of intelligence put into any of this, they'd realize all their facts are incorrect."
Qiara Butler was at Thursday's Times Square rally holding a sign bearing the picture of her cousin Tyrone West. An autopsy determined West died of a heart condition that was exacerbated during an incident with Baltimore police in July 2013. Butler said she didn't think the timing of the protest, which was planned before Holder's murder, was an issue.
"Everyone out here is protesting for their family, so we're in a constant state of mourning," Butler told FoxNews.com. "We've been mourning since July 18th [2013] and no one ever stopped their daily routine for our mourning. So we deserve our time to mourn with the other families as well."
"Nobody's here saying anything bad about cops – we're here talking about killer cops, holding killer cops responsible"
Given the prevalence of "Black Lives Matter" signs at the event, including on one large, yellow cloth held by members of the so-called Granny Peace Brigade, Butler was asked if the life of Holder, who was black, also mattered.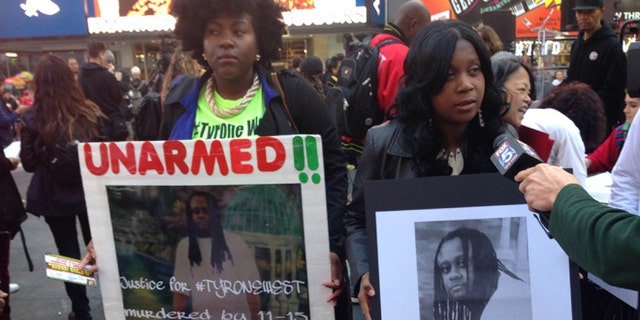 "I would hope that his family realizes that his life is included in that 'Black Lives Matter' slogan," she said. "We're talking about black bodies being persecuted across the world."
Though some of the demonstrators spoke of a more inclusive message, their regalia and posters told a different story.
One display featured a picture of Michael Brown next to a mocked-up "wanted poster" for Darren Wilson, the Ferguson, Miss. police officer who shot Brown during an altercation in August 2014. Elsewhere, a man carried a black flag with the "anarchy" symbol drawn on it. Two small groups of police officers stood apart from the crowd and looked on as one man leaned into a microphone and called for "the whole justice system to be dismantled."
"Nobody's here saying anything bad about cops – we're here talking about killer cops, holding killer cops responsible," said Tawanda Jones, Tyrone West's sister.
The three-day "National March to STOP Police Terror" on Thursday, Friday and Saturday is set to have events in numerous city spots, among them Washington Square Park and Bryant Park in Manhattan and a march to Barclay's Center in Brooklyn later Thursday. The event was "initiated" by activists Dr. Cornel West and Carl Dix, a self-described revolutionary. Several high-profile "selected endorsers" for the event include former Weather Underground terrorist Bill Ayers, actors Ed Asner and Mark Ruffalo and singer Harry Belafonte.