Trump plans to allocate $8B for border wall, source says; House Republican worries about unintended consequences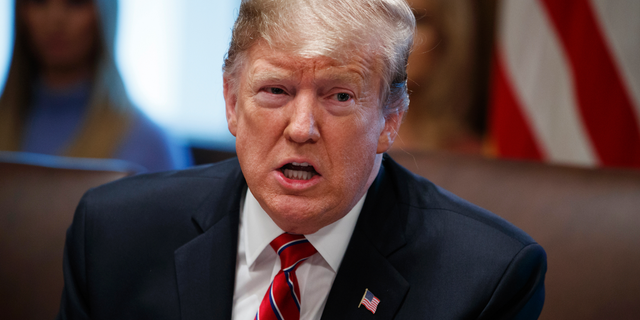 Welcome to Fox News First. Not signed up yet? Click here.
Developing now, Friday, Feb. 15, 2019
TRUMP PLANS TO ALLOCATE $8 BILLION TO FUND BORDER WALL, SOURCE SAYS: President Trump's plans to declare a national emergency in order to fund his long-promised border wall will enable his administration to move $8 billion from various federal agencies to fund the project, a senior administration official told Fox News late Thursday ... The news comes as Trump is expected to sign a House border security package that provides $1.4 billion for the project, which is far below the $5.7 billion Trump insisted he needed and would finance just a quarter of the 200-plus miles he wanted to be defended against illegal immigrants.
Sarah Sanders, the White House press secretary, said earlier Thursday that Trump will sign the spending bill and declare a national emergency at the same time Friday morning. The White House said Trump would sign the legislation but act unilaterally to get more funding, prompting condemnation from Democrats and threats of lawsuits from states and others who might lose federal money or said Trump was abusing his authority.
In an unusual joint statement, House Speaker Nancy Pelosi, D-Calif., and Senate Minority Leader Chuck Schumer, D-N.Y., said such a declaration would be "a lawless act, a gross abuse of the power of the presidency and a desperate attempt to distract" from Trump's failure to force Mexico to pay for the wall, as he's promised for years. "Congress will defend our constitutional authorities," they said.
CLICK HERE TO GET THE FOX NEWS APP
HOUSE REPUBLICAN WORRIES TRUMP'S EMERGENCY DECLARATION COULD HELP FUTURE DEM PRESIDENT ENACT GREEN NEW DEAL: A Republican congresswoman says she is concerned that President Trump's declaration of a national emergency in order to fund a wall along the U.S.-Mexico border could be used as a legal precedent to allow a future Democrat president push through legislation such as the Green New Deal ... Rep. Cathy McMorris Rodgers, R-Wash., raised her concerns in a Twitter message Thursday.
"How would Elizabeth Warren or Bernie Sanders use this precedent for a national disaster declaration to force the Green New Deal on the American people?" Rodgers wrote.
Trump has repeatedly demanded more than $5 billion for a wall along the U.S.-Mexico border and plans Friday to declare a national emergency in order to allocate $8 billion in federal funds toward the effort, a White House source told Fox News on Thursday. Democrats had refused to give in to Trump's call for $5.7 billion in wall funding, with House Speaker Nancy Pelosi rejecting what she called Trump's "immoral and hateful obsession" with building the barrier.
Rodgers is concerned that Democrats could use Trump's actions as a precedent to do the same for the Green New Deal. The legislation proposed by U.S. Rep. Alexandria Ocasio-Cortez, D-N.Y., is designed to address inequality and climate change, which would be funded through a 70 percent tax on the nation's top earners.
BETO O' ROURKE SAYS HE 'ABSOLUTELY' SUPPORTS DESTROYING EXISTING WALLS ON SOUTHERN BORDER: Former Texas Democratic Rep. Beto O'Rourke said Thursday that he would "absolutely" support tearing down existing barriers along the U.S-Mexico border, in a full-throated embrace of open-borders rhetoric that has left conservatives wondering where other potential 2020 Democratic White House hopefuls stand on the issue ... O'Rourke's comments came as the House and Senate passed a compromise spending bill that would partially fund President Trump's proposed border wall, to the tune of $1.4 billion. Trump, who had been pressing for billions more, has vowed to declare a national state of emergency to fund the remainder of the project.
Amid the congressional debate, Texas GOP Rep. Dan Crenshaw wrote on Twitter earlier Thursday that he wanted O'Rourke to answer a simple question: "If you could snap your fingers and make El Paso's border wall disappear, would you?" He cited Department of Homeland Security (DHS) figures suggesting that illegal border crossings dropped sharply in El Paso following the construction of a wall there.
MSNBC host Chris Hayes posed a version of that question to O'Rourke on-air: "Would you, if you could, would you take the wall down here -- knock it down?"
"Yes, absolutely," answered O'Rourke, who is widely thought to be a potential presidential candidate in 2020 but has not formally announced his intention to run. "I'd take the wall down."
CUOMO SLAMS OCASIO-CORTEZ, OTHERS, AS AMAZON DITCHES NEW YORK: New York Gov. Andrew Cuomo lambasted politicians such as Rep. Alexandria Ocasio-Cortez and others over Amazon's decision to leave New York City. Opponents of the deal with the tech giant had "put their own narrow political interests above their community," he said ... "[A] small group [of] politicians put their own narrow political interests above their community -- which poll after poll showed overwhelmingly supported bringing Amazon to Long Island City -- the state's economic future and the best interests of the people of this state," Cuomo said in the statement, which did not mention Ocasio-Cortez or other lawmakers by name. "The New York State Senate has done tremendous damage. They should be held accountable for this lost economic opportunity."
In the statement issued by his office, Gov. Cuomo mentioned that Amazon chose the Empire State because it is "the capital of the world and the best place to do business," adding that missing out on Amazon is a lost opportunity to diversify "our economy away from real estate and Wall Street."
TUNE IN: Nicole Malliotakis (R) of the New York State Assembly speaks with Fox & Friends at 6 a.m. ET on the left's latest victim, Amazon, and why they chose to stay away from New York.
Amazon's New York HQ2 cancellation draws fiery responses from lawmakers, tech world
VENEZUELA UNVEILS ANTI-US COALITION AT UNITED NATIONS: It was almost a who's who of America's foes as Venezuela's foreign minister, Jorge Arreaza, was surrounded on Thursday by some of the world's most notorious human rights violators. He was announcing the formation of a group of countries that he said would defend the United Nations Charter ... In an attempt to fight off what the Nicolas Maduro government has claimed to be the threat of a U.S.-led coup, and flanked by more than a dozen ambassadors and diplomats from countries including Iran, North Korea, Cuba, Syria, China and Russia, Arreaza read off a statement defending the charter and the principles of nonintervention.
Those principles included respect for all states. The principles also called for states to refrain from the use of force against any state, and to respect territorial integrity.
In reference to the sanctions put on his country by the United States, he said all people "have the right to live without the threat of use of force and without the application illegal, coercive, unilateral measures."
THE SOUNDBITE
SEN. LAMAR ALEXANDER ON PRESIDENT TRUMP MAKING HIS CASE AND CONGRESS RESPONDING TO THE BORDER CRISIS - "Well, the president made a strong case for a crisis on the border -- the southern border -- and Congress is responding in this bill with $22 billion new dollars for border security. I mean, that includes 5,000 more detention beds to hold people, that includes more border guards, that includes more technology, and it includes 55 miles of new physical barrier or wall..." - U.S. Sen. Lamar Alexander, R-Tenn., member of the Senate Appropriations Committee, on "Outnumbered Overtime with Harris Faulkner," shares his reaction on Congress rolling out a plan to avoid another government shutdown. WATCH.
TODAY'S MUST-READS
Man says killing mountain lion with bare hands 'was just like a wrestling match'
Feds tell 'Fresh Prince' actor he can't copyright 'Carlton' moves
Pompeo says Europe more forcefully backing US push to keep Iran in check
California Republicans call for re-do vote on high-speed rail project after Newsom's 'bait-and-switch'
MINDING YOUR BUSINESS
Warren Buffett's Berkshire Hathaway bets more on banks
Michael Bloomberg to spend $500M on anti-Trump campaign: report
Ford preps for CFO Bob Shanks' retirement
Smaller refunds 'positive news' for taxpayers, Treasury says
Money questions to ask before getting married
STAY TUNED
On Fox Nation:
Brian Kilmeade Explores America's Hidden Treasures - The second season of Brian Kilmeade's acclaimed series, "What Made America Great," returns to Fox Nation. Watch a preview of the show now.
Not a subscriber? Click here to join Fox Nation today!
On Fox News:
Fox & Friends, 6 a.m. ET: Special guests include: Jonathan Turley, constitutional law professor to break down President Obama's national emergency declarations versus President Trump's; Dr. Qanta Ahmed, muslim scholar and author of "In the Land of Invisible Women" to discuss her opinion that Rep. Ilhan Omar, D-Minn., brings shame to American Muslims; Joe Concha, media reporter for the Hill to talk about whether the media is asking the right questions in response to Andrew McCabe; Ralph Reed, chairman of Faith & Freedom Coalition to discuss the topic of the president making the importance of a life a key issue; Diamond & Silk, YouTube stars, Trump supporters and Fox Nation hosts to talk about news of the day; Lara Trump, wife of Eric Trump and campaign adviser to President Trump to discuss news of the day.
Outnumbered Overtime with Harris Faulker, 1 p.m. ET: Special guests include: Robert Ray, former Whitewater independent counsel and former federal prosecutor; Jason Nichols, University of Maryland professor; Matt Schlapp, chairman of the American Conservative Union.
Your World with Neil Cavuto, 4 p.m. ET: Special guests include: Gerry Baker, host of WSJ At Large.
The Story with Martha MacCallum, 7 p.m. ET: Special guests include: Jessica Tarlov, Fox News contributor.
Hannity, 9 p.m. ET: Special guests include: Tammy Bruce, Fox News contributor; Joe Concha, media reporter for the Hill; Gregg Jarrett, attorney and Fox News legal analyst.
On Fox News Radio:
The Fox News Rundown podcast: Amazon has canceled its plans to build a second headquarters in New York after mounting opposition from state and local officials. FOX Business Correspondent Kristina Partsinevelos and New York State Assemblyman Ron Kim weigh in on Amazon's abrupt decision to back out.
As Britain's 'Brexit' inches closer to becoming reality, many of the country's Jews are applying to reclaim their German citizenship. Carol Hedges tells her story and explains why she decided to seek dual citizenship
Don't miss the good news with FOX's Tonya J. Powers.
Plus, commentary by "FOX News Sunday" host Chris Wallace.
Want the Fox News Rundown sent straight to your mobile device? Subscribe through Apple Podcasts, Google Play, and Stitcher.
The Brian Kilmeade Show, 9 a.m. ET: Guests include: Adam Stavridis to discuss foreign affairs, Iran and Venezuela; Mark Steyn to talk about the spending bill, national emergency and 2020; Jung Pak to discuss North Korea; Shannon Bream to talk about the spending bill, national emergency, Mueller and 2020; Gary Sinise to promote his new book.
The Todd Starnes Show, Noon ET: Rep. Doug Lamborn, R-Ohio, explains why funds are essential for border security and "The Activist Mommy" Elizabeth Johnston will detail what it's like to fight on the front lines of the culture war.
#ONTHISDAY
1961: Seventy-three people, including an 18-member U.S. figure skating team en route to the World Championships in Czechoslovakia, were killed in the crash of a Sabena Airlines Boeing 707 in Belgium.
1933: President-elect Franklin D. Roosevelt escaped an assassination attempt in Miami that mortally wounded Chicago Mayor Anton J. Cermak; gunman Giuseppe Zangara was executed more than four weeks later.
1898: The U.S. battleship Maine mysteriously blew up in Havana Harbor, killing more than 260 crew members and bringing the United States closer to war with Spain.
1564: Italian astronomer Galileo Galilei was born in Pisa.
Fox News First is compiled by Fox News' Bryan Robinson. Fox News' Amy Lieu contributed to this edition. Thank you for joining us! Have a great weekend! We'll see you in your inbox first thing Monday morning.