Ocasio-Cortez slams Amazon for New York HQ2, cites community 'outrage'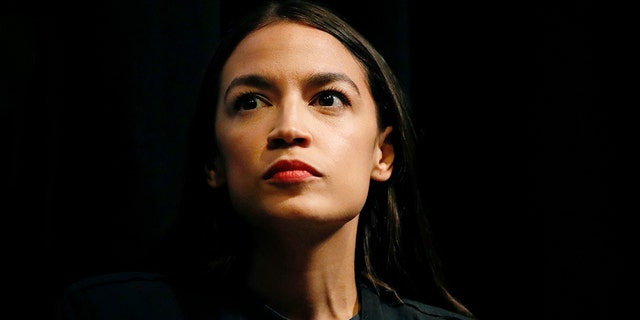 New York Democratic Congress member-elect Alexandria Ocasio-Cortez railed against Amazon for getting tax breaks and cited community "outrage" as the tech giant plans to build one half of its HQ2 in Long Island City.
Ocasio-Cortez, 29, tweeted that she heard from members of the Queens community and was hearing "outrage," as Amazon brings 25,000 full-time high-paying jobs, approximately $2.5 billion in Amazon investment and eventually 8 million square feet of office space to Long Island City as part of its investment announced on Tuesday. The Seattle-based company also said that it expects to generate "incremental tax revenue of more than $10 billion over the next 20 years as a result of Amazon's investment and job creation."
The Congress-member elect followed that up with a tweet decrying Amazon's tax incentives for bringing jobs to the area, incentives that New York Governor Andrew Cuomo signed off on. It's unclear what Ocasio-Cortez meant by Amazon being a "billion dollar company," as the company's market cap is several hundred times that number, at approximately $800 billion. In its most recent quarter, Amazon also generated $56.6 billion in revenue, up 29 percent year over year.
AMAZON IS THE LATEST BIG TECH COMPANY TO FACE EMPLOYEE REVOLT
The youngest person ever elected to Congress continued her tweetstorm, bemoaning that the jobs being brought and the investment in the community are not going to improve the quality of the life of the residents.
Governor Cuomo directly addressed these concerns in the Amazon blog post, noting that the average salary for the "tens of thousands of new jobs Amazon is creating in Queens" will be $150,000. He also said that the "economic opportunity and investment will flourish for the entire region."
Cuomo continued: "Amazon understands that New York has everything the company needs to continue its growth. The State's more than $100 billion transportation infrastructure program – the most ambitious in our history – combined with our education initiatives like K-12 tech education and the first-in-the-nation Excelsior Scholarship program, will help ensure long-term success and an unrivaled talent pool for Amazon."
Even though many of Ocasio-Cortez's complaints were addressed, there is some credence to her issues. A recent article in The Wall Street Journal cited a developer frenzy for high-priced condos in the area, which could unleash "a condo gold rush." Others have bemoaned that the level of tax incentives the Seattle-based technology giant is receiving are "outrageous."
The Open Markets Institute called Amazon's decision to split up its headquarters into two cities a "bait-and-switch" and said New York officials should be "especially ashamed" of their efforts, citing Amazon's dominant place in book selling.
"Rather than rewarding Amazon for its predatory behavior and dictatorial control over New York's book business, New York politicians should serve their constituents – the people who actually pay their taxes – by demanding that Amazon be broken up and regulated through public action," Barry Lynn, Executive Director of the Open Markets Institute, said in a statement.
9 GREAT AMAZON PRIME PERKS YOU DIDN'T KNOW ABOUT UNTIL NOW
As part of the deal, Amazon will reap "performance-based direct incentives of $1.525 billion" for creating the 25,000 jobs in Long Island City. Of this $1.525 billion, up to $1.2 billion could come from a refundable tax credit through New York State's Excelsior Program and a $325 million cash grant from the Empire State Development fund. The company also said that it will "separately apply for as-of-right incentives including New York City's Industrial & Commercial Abatement Program (ICAP) and New York City's Relocation and Employment Assistance Program (REAP)."
In choosing the portion of Queens, which has gone under a tremendous amount of economic redevelopment over the past 20 years, Amazon cited its ability to attract top-tier talent, particularly in software development and related fields. It also mentioned Long Island City's public transportation prowess, noting the community has 8 subway lines, 13 bus lines, a commuter rail, bike-sharing service and ferries, in addition to its close proximity to LaGuardia and JFK airports.
The Jeff Bezos-led company also mentioned the fact that Long Island City "is a diverse community with a unique blend of cultural institutions, arts organizations, new and converted housing, restaurants, bars, breweries, waterfront parks, hotels, academic institutions, and small and large tech sector and industrial businesses."
In addition to choosing Long Island for part of its second headquarters, Amazon chose National Landing in Arlington, Virginia, which is less than 3 miles from Washington D.C., placing Amazon near the country's top lawmakers. In Arlington, it too will create "more than 25,000 full-time high-paying jobs," while receiving $573 million in incentives from the Commonwealth of Virginia and a cash grant from Arlington.
AMAZON MET WITH ICE OFFICIALS OVER FACIAL-RECOGNITION SYSTEM TO IDENTIFY IMMIGRANTS
Amazon also announced that it would be opening a new operations center in Nashville, Tenn., where it will receive incentives worth up to $102 million based on the company creating 5,000 jobs with an average wage of over $150,000 in the city.
The decision to announce the locations of its HQ2 marks the end of a drama that has played out for more than a year, with the company putting on a competition between U.S. cities, asking for tax incentives and other benefits along the way. Some in Silicon Valley, most notably Apple CEO Tim Cook, bemoaned Amazon's competition, calling it no more than a "beauty contest."
Follow Chris Ciaccia on Twitter @Chris_Ciaccia