House Republican worries Trump's emergency declaration could help future Dem president enact Green New Deal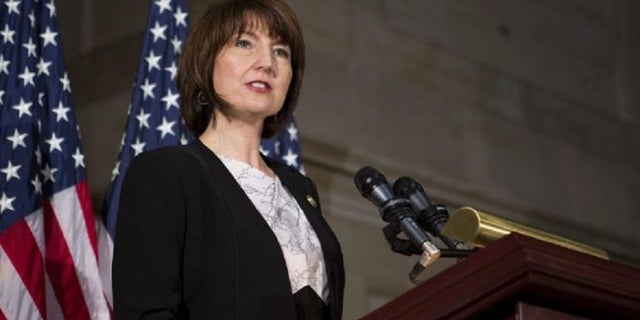 A Republican congresswoman says she is concerned that President Trump's declaration of a national emergency in order to fund a wall along the U.S.-Mexico border could be used as a legal precedent to allow a future Democrat president push through legislation such as the Green New Deal.
Rep. Cathy McMorris Rodgers, R-Wash., raised her concerns in a Twitter message Thursday.
"How would Elizabeth Warren or Bernie Sanders use this precedent for a national disaster declaration to force the Green New Deal on the American people?," Rodgers wrote.
REP. CATHY MCMORRIS RODGERS: BLAZING TRAILS IN CONGRESS
Trump has repeatedly demanded more than $5 billion for a wall along the U.S.-Mexico border and plans Friday to declare a national emergency in order to allocate $8 billion in federal funds toward the effort, a White House source told Fox News on Thursday.
Democrats had refused to give in to Trump's call for $5.7 billion in wall funding, with House Speaker Nancy Pelosi rejecting what she called Trump's "immoral and hateful obsession" with building the barrier.
On Thursday, Senate Majority Leader Mitch McConnell delivered the news on the Senate floor that Trump would sign a border security package to avert another government shutdown and would declare a national emergency, blindsiding and confusing some Republicans.
"I wish he wouldn't have done it," Sen. Chuck Grassley, R-Iowa, who McConnell interrupted on the Senate floor to make his announcement, told Politico. "If [Trump] figures that Congress didn't do enough and he's got to do it, then I imagine we'll find out whether he's got the authority to do it by the courts."
"It's a mistake on the president's part," Sen. Susan Collins, R-Maine, told the same publication. "I also believe that it will be challenged in court. It undermines the role of Congress and the appropriations process."
Sen. Rand Paul, R-Ky., said he is not "for running the government by emergency, nor spending money. The Constitution's pretty clear: Spending originates and is directed by Congress, So I'm not really for it."
CLICK HERE TO GET THE FOX NEWS APP
Rodgers is concerned that Democrats could use Trump's actions as a precedent to do the same for the Green New Deal. The legislation proposed by U.S. Rep. Alexandria Ocasio-Cortez, D-N.Y., is designed to address inequality and climate change, which would be funded through a 70 percent tax on the nation's top earners.
The plan has been endorsed by nearly all the top 2020 Democratic presidential candidates. McConnell plans to bring the bill up for a vote in an effort to force Democrats to go on record regarding the proposal.