Trump impeachment rally set for Philly next month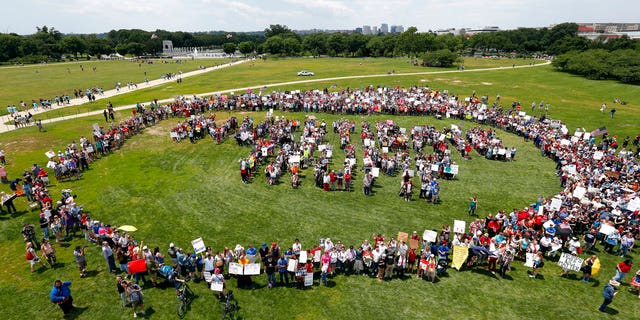 NEWYou can now listen to Fox News articles!
Protesters are planning to rally against President Trump in Philadelphia next month as they call for his impeachment.
In a Facebook event created for the rally, which is scheduled for Sunday, July 2, organizers "demand that Congress does its job and commences with impeachment proceedings immediately," claiming that Trump "has been in violation of the Constitution from the day he was sworn into the office of President."
ARRESTS AFTER SCUFFLE BREAKS OUT AT CALIFORNIA TRUMP RALLY
The online event page, which, as of Monday evening has just under 1,000 "interested" people, claims that organizers "do not feel our country is in safe nor able hands" and asserts Trump has obstructed justice by firing federal officers and investigators who were looking into his "illegal activities," including former FBI Director James Comey.
Rally organizers claimed that Trump's White House has violated free speech rights by denying access to the media, and "publicly vilified the press by calling them enemies of the people."
MAN ACCUSED OF ASSAULTING WOMAN AT TRUMP RALLY SAYS PRESIDENT TO BLAME
The location of the march has not yet been announced.