Tornado Victims Receive Gifts From the Sky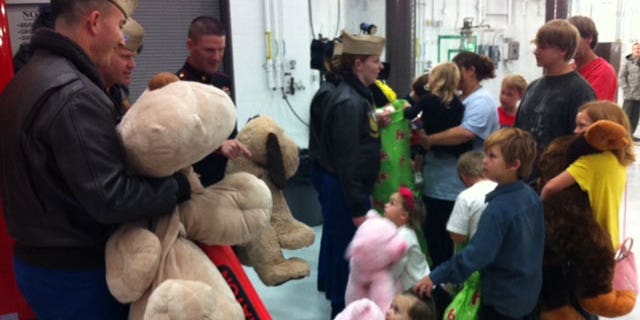 BIRMINGHAM, Ala. – The Blue Angels are playing Santa. The Navy aerobatics team delivered large pallets of toys aboard its support plane, which landed in Birmingham, Ala., Tuesday afternoon.
The gifts, donated by employees of military aircraft maker Lockheed Martin, are being distributed by the U.S. Marines' Toys for Tots program to young victims of tornadoes that ripped through Alabama earlier this year.
"To be able to go back and give back to the state that helped raise me is an honor," said Capt. John Hecker as he flew the C-130 aircraft nicknamed "Fat Albert" between toy pickups at Lockheed Martin facilities in Marietta, Ga., and Fort Worth, Texas.
Hecker, who grew up in Huntsville, Ala., saw some of his friends lose homes in a deadly tornado that tore through that city in 1989. Two decades later, he hopes to lift the spirits of other young tornado victims.
"Just to have a smile on a child's face is all I'm looking for," he said.
Upon their arrival in Birmingham, the Blue Angels brought smiles to the faces of all nine children of Gary and Heather Adams.
Back in April, a twister destroyed their home in Cordova, Ala. The couple and their children, ranging in age from 2 to 15, have been living in a camper on their property as they await completion of their new house in December, with the help of donors and volunteers from the community.
The arrival of Blue Angels bearing gifts brought tears of joy.
"The kids, just to see their eyes when that plane landed, it was awesome," Heather Adams said.
Toys for Tots plans to distribute the rest of the Blue Angels' gifts to hundreds of other Alabama children impacted by the tornadoes.