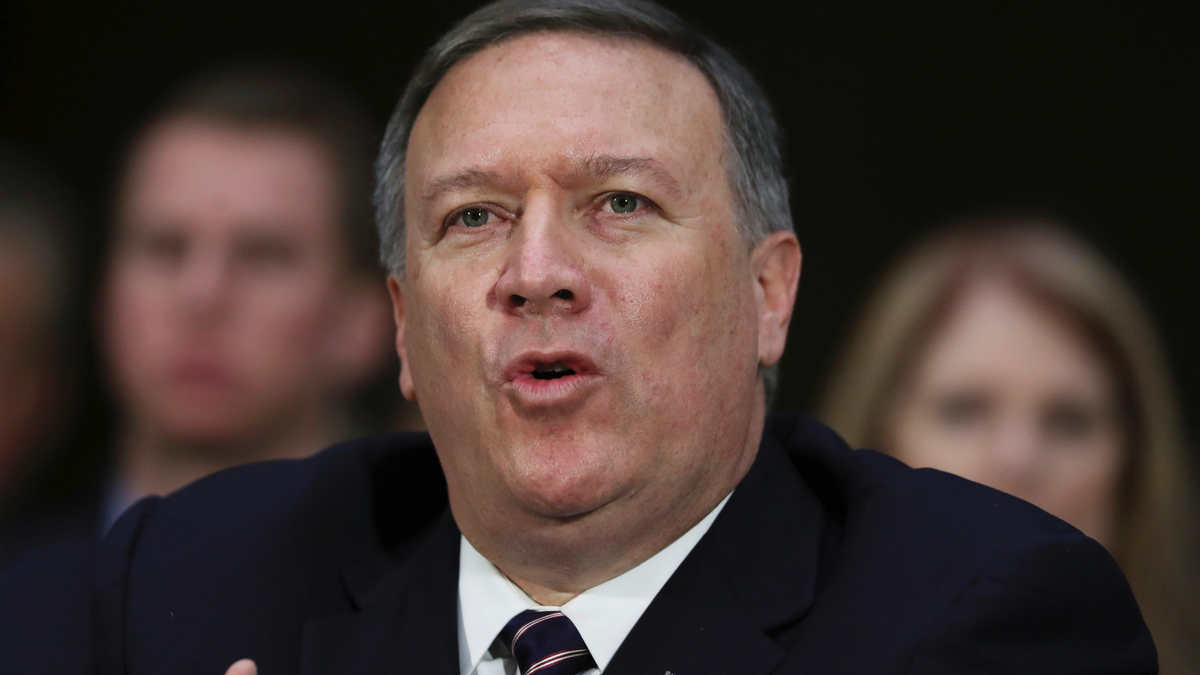 WASHINGTON – The Iran nuclear deal was in near terminal condition and on life support even before President Donald Trump fired Secretary of State Rex Tillerson. Tillerson's dismissal this week may hasten its demise.
As CIA chief and Iran hawk Mike Pompeo prepares to run the State Department, the Trump administration is weighing a speedier withdrawal from the agreement than even the president has threatened, according to two U.S. officials and two outside advisers briefed on the matter. They were not authorized to discuss the sensitive negotiations publicly and spoke on condition of anonymity.
While such a scenario is unlikely, the fact it is being floated as an option may give U.S. officials more leverage in negotiations with European signatories to salvage the accord by toughening it. Two such negotiating sessions have already been held and a third is set for Thursday in Berlin.
Trump, who calls the Obama administration's signature foreign policy achievement the worst deal ever negotiated, has vowed to walk away from the 2015 agreement in mid-May unless Britain, Germany and France join the U.S. in addressing what the president says are its fatal flaws. These include no penalties for Iran's missile work and support for militant groups in Lebanon, Syria, Yemen and elsewhere.
The deal that was negotiated by the Obama administration and six other countries limits Iran's enrichment and stockpiling of material that could be applied to a nuclear weapons program. In exchange, Tehran was granted widespread relief from international trade, oil and banking sanctions. Trump's next deadline to extend some of those concessions is May 12, and he has vowed not to do so again unless the Europeans meet his demands.
Any U.S. withdrawal would likely crater the agreement. If the U.S. begins threatening fines and other punishments for sanctions violations, countries around the world are likely to curtail commerce with Iran. That could prompt the Iranians to walk away as well, and perhaps even restart nuclear activities banned under the accord.
An indication of the Trump administration's thinking could come Friday, when the U.S., Britain, China, France, Germany, Russia, the European Union and Iran meet for a periodic review at the International Atomic Energy Agency headquarters in Vienna.
State Department policy planning chief Brian Hook, who is running the negotiations with Europe, will lead the U.S. delegation to the larger meeting in Austria's capital. Hook, who Tillerson leaned on heavily for policy advice and direction, could meet separately in Vienna with the Iranian delegation head, Deputy Foreign Minister Abbas Aragchi. For his part, Aragchi sees the writing on the wall. He told a parliamentary committee in Tehran on Wednesday that Tillerson's ouster was proof that Trump would pull out and promised that Iran would withdraw if the U.S. does.
In the U.S., Iran deal supporters braced for what they see as the inevitable. Pompeo "is certain to advise the president to withdraw the United States from our obligations under the nuclear agreement," said Diplomacy Works, a group of mainly former Obama administration officials that lobbies for staying in the deal.
Hook had been tasked by Tillerson with getting the Europeans to agree to as many of Trump's demands as possible, with an eye toward selling the president on extending the sanctions waivers. Doing so would buy U.S. negotiators time to deal with elements of the agreement Trump has disparaged — such as its expiration dates on key nuclear constraints — and missile and terrorism concerns.
With Tillerson gone, the emphasis will likely change.
The ex-oilman had waged an often lonely battle within Trump's Cabinet to save the deal. He succeeded for 13 months. But each time Trump faced another sanctions deadline, Tillerson met increased resistance to keeping the agreement alive.
In firing Tillerson on Tuesday, Trump in particular noted his disagreement over the Iran accord. Trump won't have that problem with Pompeo, who has lambasted the deal on a level similar to Trump, making clear the two men are of the same opinion.
Trump said that he and Pompeo "have a very similar thought process" on the deal.
As a congressman, Pompeo vociferously denounced the accord when it was struck.
"The (deal) can perhaps delay Iran's nuclear weapons program for a few years," he wrote at the time. "Conversely, it has virtually guaranteed that Iran will have the freedom to build an arsenal of nuclear weapons at the end of the commitment."
His stance and position with Trump could give Pompeo leverage with the Europeans that Tillerson never enjoyed.
U.S. officials said American positions have hardened over the past several weeks, notably on Iranian ballistic missile testing and the deal's provisions that allow Iran to gradually resume advanced atomic work. Because Iran and the Europeans refuse to renegotiate the nuclear deal, U.S. officials are seeking to create a supplemental agreement with Europe to address these matters.
At Thursday's meeting in Berlin, U.S. and the European officials are hoping to compare draft written proposals and combine points of agreement into a new document that could form the basis of a side deal.
U.S. and European diplomats say they're closer on long-range ballistic missile launches, inspections and new sanctions on Iranian-backed militant groups. Gaps are larger on medium-range missiles that could hit Israel, Saudi Arabia and other Gulf Arab states and on the deal's particulars for when advanced atomic work can restart.
The U.S. focus turned to medium-range missiles after Israeli Prime Minister Benjamin Netanyahu met Trump in Washington earlier this month. Iran maintains that it must have medium-range missiles to defend itself, an argument the Europeans have been sympathetic to.
The differences are even more stark on the sunset provisions, which are codified in the nuclear deal and which the Europeans and Iran regard as inviolable, according to the diplomats. One senior negotiator involved in the talks said last week that Europe is prepared to be "creative" in addressing the provisions but would not budge from opposing any measure that would punish Iran for activity that is otherwise permitted under the 2015 agreement.