Three generations of Illinois women celebrate their graduations together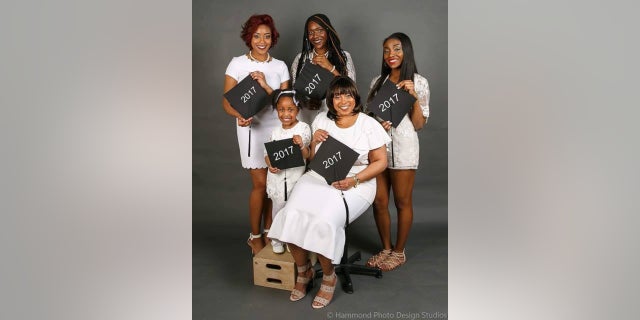 Three generations of Illinois women in one family are all graduating together this spring. And to celebrate, they held a photo shoot.
LaWanda Flennoy received her associate's degree from South Suburban College in South Holland, according to Inside Edition. Her two oldest daughters, Paris and Amari, graduated from college this month, her youngest, Jade, finished high school and will graduate. Granddaughter Brooklyn, Paris's daughter, will be graduating from kindergarten.
Flennoy decided to return to school in 2010.
She organized the photo shoot with Chicago photographer Darryl Hammond for her daughters and granddaughter, but did not expect to participate.
VIRGINIA TEEN EARNS MASTER'S DEGREE WEEKS BEFORE GRADUATING HIGH SCHOOL
"It was the idea of my oldest daughter Paris. She wanted to have a family graduate shoot," Flennoy said. "Originally I hadn't planned on being in the picture. They insisted that I be in it."
Flennoy published one of the photographs from the shoot on the Facebook page, "Because Of Them We Can," where it received more than 7,000 likes.
NORTH TEXAS TRIPLETS GRADUATE AT TOP OF THEIR HIGH SCHOOL CLASS
Paris, 25, received her degree in public relations from Chicago State University and has accepted a job at Apple. Amari, 23, earned her degree in industrial engineering from the University of Illinois at Chicago and will work for Ford Motor Company. Jade plans to attend Illinois State University.
"It's actually overwhelming. I am really excited about them graduating," Flennoy said. "They are doing really well for themselves."