The Latest: Sanders: Media wrongly blaming Trump for attacks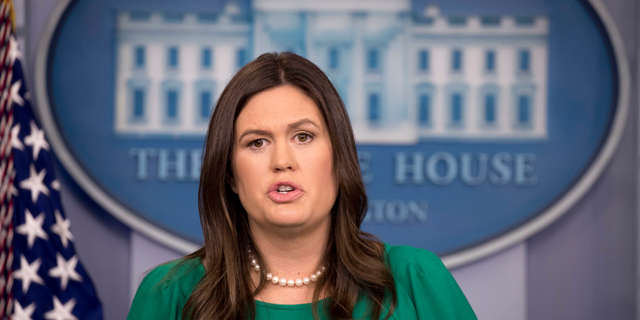 WASHINGTON – The Latest on President Donald Trump (all times local):
2:45 p.m.
White House press secretary Sarah Huckabee Sanders is accusing the media of wrongly blaming President Donald Trump for a mail bomb plot and a deadly weekend shooting at a Pittsburgh synagogue.
She said Monday at a press briefing that the first thing the president did was condemn the attacks and the first thing the media did was blame the president. Trump critics have said the president's harsh partisan rhetoric has fueled such attacks.
Sanders told reporters that people should place the responsibility for the two attacks on the individuals responsible.
Florida resident Cesar Sayoc is charged with federal crimes in the mail bomb plot on high-ranking Democratic officials and CNN. Robert Bowers is charged with killing 11 people in what is believed to be the deadliest attack on Jews in U.S. history.
___
8:30 a.m.
President Donald Trump is accusing the media of being "the true Enemy of People" in the wake of a mass shooting and a mail bomb plot.
Trump tweeted Monday: "There is great anger in our Country caused in part by inaccurate, and even fraudulent, reporting of the news." He added that the media "must stop the open & obvious hostility & report the news accurately & fairly."
The president's comments follow a mass shooting at a Pittsburgh synagogue and a mail bomb scare targeting Democrats and CNN. The election season violence rattled a divided nation and prompted questions about whether Trump should tone done his rhetoric.
Trump condemned the Pittsburgh attack as an act of anti-Semitism and has denounced political violence. But he has continued to hold political rallies.