The Latest: Largest California fire 30 percent contained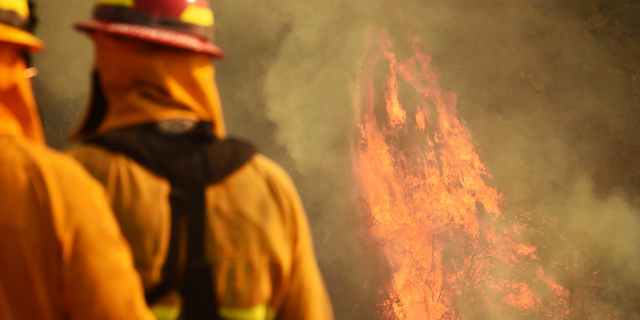 LOS ANGELES – The Latest on California wildfires (all times local):
7:10 p.m.
The fifth-largest wildfire in California history is now 30 percent contained but still threatens coastal communities as gusty Santa Ana winds continue.
State fire officials predicted Wednesday night that the so-called Thomas Fire northwest of Los Angeles will continue to grow as it eats up parched brush and hot, dry weather continues.
The blaze still threatens Santa Barbara, Carpinteria, Summerland and Montecito — a wealthy area that's home to celebrities such as Oprah Winfrey.
Since the blaze erupted last week, it has burned down 921 buildings —including at least 700 homes. It threatens 18,000 buildings and has prompted evacuations of about 100,000 people.
The 238,500 acres burned translate to more than 372 square miles (965 square kilometers).
The National Weather Service is predicting red flag conditions of extreme fire danger in much of Southern California through Friday.
___
5:30 a.m.
After announcing increased containment on one of the biggest wildfires in California history, officials say communities remain at risk and the threat could increase as unpredictable winds whip up again.
Red Flag warnings for fire danger due to Santa Ana winds and a critical lack of moisture have been extended, with a possible increase in gusts Thursday into Friday.
Evacuations continue for the seaside enclaves of Montecito, Summerland and Carpinteria and the inland agricultural town of Fillmore.
Officials announced Tuesday night that crews had carved containment lines around one-quarter of the blaze straddling Santa Barbara and Ventura counties.
The so-called Thomas fire has burned over 900 structures, at least 700 of them homes. It stretches across nearly 370 square miles (958 sq. kilometers) of Southern California, making it the fifth largest in state history.