The Latest: Harvey steady at 110 mph as churns toward Texas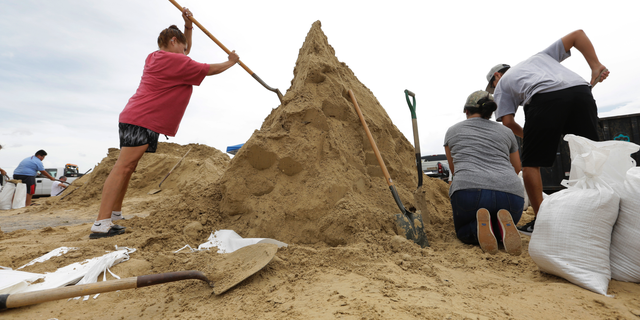 HOUSTON – The Latest on Hurricane Harvey as it takes aim at the Texas coast (all times local):
10:20 a.m.
Hurricane Harvey continues to swirl toward the middle Texas coast as it flirts with becoming a major Category 3 storm.
The National Hurricane Center's latest advisory as of 10 a.m. Friday places the storm about 115 miles (185 kilometers) southeast of Corpus Christi, moving 10 mph (17 kph) to the northwest. Sustained winds have been holding at 110 mph (177 kph).
Forecasters have said it will intensify and make landfall Friday evening or early Saturday as a likely Category 3 storm, meaning sustained winds topping 115 mph (185.07 kph).
Once the storm makes landfall, gradual weakening is forecast but because so much of the storm remains over the warm Gulf of Mexico, which fuels Harvey, the hurricane center says the weakening could be slower than normal.
That also means the storm is likely to be a huge rainmaker. Predictions for a wide area of Texas from the coast and inland for rainfall measuring up to nearly 3 feet (0.91 meter) as the storm stalls and meanders well into next week.
___
10 a.m.
An emergency management official on the Texas coast says a primary concern as Harvey approaches is heavy rain that could leave many towns isolated for days as they're turned into "essentially islands."
Harvey is forecast to make landfall late Friday or early Saturday as a Category 3 storm.
Melissa Munguia is deputy emergency management coordinator for Nueces (nyoo-AY'-sis) County. She says there are vast flatlands just inland from the central Texas coast that are prone to flooding.
The approximately 20 inches (50 centimeters) of rain that Harvey may bring could leave towns in the area isolated well into next week.
Munguia says that traffic backups were being seen Friday on heavily traveled roads such as Interstate 37 as people move inland to San Antonio and other locations.
___
7:45 a.m.
The National Hurricane Center warns that conditions are deteriorating as Hurricane Harvey strengthens and slowly moves toward the Texas coast.
The center says preparations for the storm "should be rushed to completion" Friday morning along Texas' central Gulf Coast.
The center says the storm has maximum sustained winds of 110 mph (177 kph), just shy of the benchmark for a Category 3 storm. Forecasters say the storm is expected to reach that mark before making landfall late Friday or early Saturday.
Millions of people are bracing for a prolonged battering that could swamp dozens of counties more than 100 miles (161 kilometers) inland.
Brock Long is the director of the Federal Emergency Management Agency. He tells "Good Morning America" that Harvey is a "very serious" threat and that the window for evacuating is quickly closing.
Long says he expects extensive damage from significant rain over the next three days.
___
1:30 a.m.
Texas residents and officials are preparing for Hurricane Harvey, which the National Hurricane Center says has strengthened to a Category 2 storm.
Harvey grew quickly Thursday from a tropical depression into a Category 1 hurricane. Early Friday, the center reported it's now at a Category 2.
Fueled by warm Gulf of Mexico waters, the storm is projected to become a major Category 3 hurricane. Forecasters are labeling it a "life-threatening storm" with landfall predicted late Friday or early Saturday between Port O'Connor and Matagorda Bay, a 30-mile (48-kilometer) stretch of coastline about 70 miles (110 kilometers) northeast of Corpus Christi.
Texas officials have been expressing concern that not as many people are evacuating compared with previous storms as Hurricane Harvey bears down on the state.