Texas man's act of kindness for elderly woman goes viral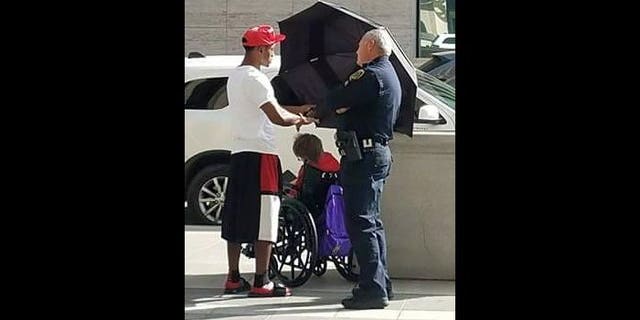 A Texas man is being hailed a hero for an act of kindness that has gone viral.
Louis Jordan, 35, was photographed on April 27 in Houston holding an umbrella over an elderly woman who was waiting in the heat to be picked up by a paratransit service. The image reportedly has been shared thousands of times since.
"I've been down and out myself," Jordan told Fox 7 Austin. "It doesn't take a lot. I just do what I can do."
Jordan visits downtown Houston nearly every afternoon to pick up his mother after putting in a full shift at his UPS job, and began holding up the umbrella – which he stashes in his car trunk -- after he noticed in April that the lift service has typically kept the woman waiting, the station added.
His mother Vernette Botts took the picture of her son and a police officer that had come over to check on the situation.
Jordan told Fox 7 Austin that he lives his life inspired by God and the teachings of the church.
"I pray every day that God will allow me to be closer to him," he said.
Officials with the paratransit service said they won't be late again, his mother added.