Texas Battles Wildfires Fueled by Heat and Wind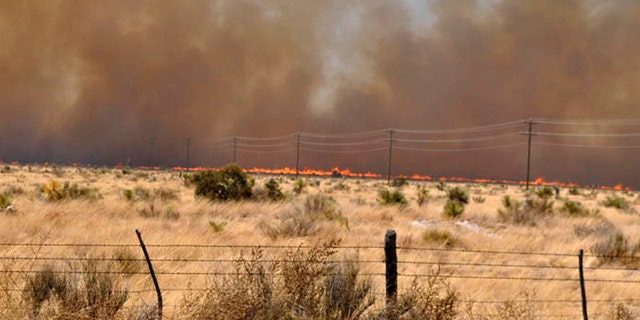 DALLAS -- Out-of-control wildfires in Texas have scorched nearly 400 square miles and destroyed dozens of homes as hot, windy conditions fuel the blazes.
One fast-moving wildfire in West Texas had spread to more than 60,000 acres Sunday in Jeff Davis County and destroyed about 40 homes in Fort Davis before it raged north and east.
"It was unbelievable, just horrific. There were horses on fire, buildings on fire, houses on fire," said Bob Dillard, a former Jeff Davis county judge and editor of the weekly Jeff Davis County Mountain Dispatch.
Revis Daggett, co-owner of Wayside Inn B&B in Fort Davis, called the situation "gut-wrenching."
"It's very personal and it's quite surreal," said Daggett, whose business was safe from the flames as of Sunday afternoon. "And you look around and you just keep thinking, `Well, you can't control the fire, so what are the possibilities it comes back at you?"'
Another West Texas fire burned 16,000 acres in Midland County and destroyed about 34 homes, said Alan Craft, a Texas Forest Service spokesman.
Meanwhile, a 71,000-acre fire in Northern Texas hadn't destroyed any homes because it was in a rural area of rolling plains, Craft said. That fire has been burning since Wednesday after it was started by a welder's torch near the community of Swenson, about 175 miles west of Fort Worth.
The Federal Emergency Management Agency was expected to respond to some of the state's massive fires, assisting volunteer and other fire departments from across Texas and two dozen other states, Craft said.
Sunday's hot, windy conditions and low humidity, combined with withered shrubs and grasses caused by the drought, made for dangerous conditions, Craft said. Air tankers usually used to douse such massive fires could not be flown Sunday because of wind gusts of 40 to 50 mph, Craft said.
In the Texas Panhandle, a 60,000-acre blaze raged through Potter and Moore counties. A 10,500-acre fire in Garza County south of Lubbock had been mostly contained Sunday, fire officials said.
Some small fires were reported Sunday in East Texas, including a 129-acre Angelina County fire that was contained.
------
Associated Press writer Angela K. Brown in Fort Worth and broadcast anchor Ed Donahue in Washington, D.C., also contributed to this report.