Teen facing murder charge at large, 3 others caught after escape from New Jersey detention facility
A teen indicted on first-degree murder charges remained at large Wednesday, even as three others had been captured hours after the quartet escaped from a New Jersey youth detention center, officials said.
Donovan Nickerson, Raymir Lampkin and Stephine Woodley were found in Bridgeton, about 36 miles away from the Harborfields Youth Detention Facility in Egg Harbor City, Atlantic County Sheriff Michael Petusky said at a news conference
The fourth teen, Michael Huggins, remained at large.
Huggins was indicted by a grand jury in September on first-degree murder charges for allegedly shooting a 21-year-old during an October 2016 robbery, NJ.com reported. Huggins was set to appear in court in December.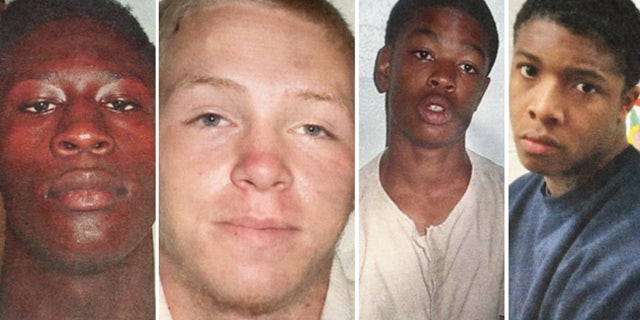 Authorities said it was not immediately clear how the escapees got as far away as they did, or what led to their capture 9 hours later.
The Atlantic County sheriff's office said the group of teens drove off in a guard's car, sideswiped a vehicle and crashed into a home before they ran off.
Two of the escapees were wearing only underwear, and one was wearing flip flops at the time of the escape.
The guard was taken to a hospital, but officials said he did not suffer major injuries.
Sixteen schools in the area were closed Wednesday morning during the search, which also involved a state police helicopter and assistance from local police departments.
Campus police at Stockton University, located about seven miles from the facility from which the four escaped, issued an alert to students to be on the lookout for the escapees, Philly.com reported.
The mayor of Egg Harbor City issued a recorded warning to homes in town around 3:30 a.m., telling residents the escapees were on the loose and advising them not to open their doors for anyone.
The Associated Press contributed to this report.