Teachers protest, demand extraordinary funding increases, in Arizona and Colorado
Hundreds of schools across Arizona were shut down Thursday, so tens of thousands of teachers could march on the capital in Phoenix to demand more funding.
"Look our kids in the eye and say, 'You gave us your best, we just gave you our best. Be strong Arizona,'" yelled Joe Thomas, president of the Arizona Education Association.
Thomas spoke to an energetic crowd on a stage placed directly in front of the Capitol, but more importantly, in front of Governor Doug Ducey's office.
"We've all been listening — but now, it's time to act. My number one focus right now is passing a 20-percent pay raise for Arizona teachers. This raise is earned, and it is deserved," said Ducey in a statement.
Ducey wants to give Arizona teachers the pay raise by 2020. Critics, however, say the plan is not sustainable because it's based on economic projections, and not money that's already there. Ducey has stuck with the plan, and said the economy is growing and will continue to do so.
"To parents, I understand the pain and pressure caused by today's strike. I want you to know, I am working to get this 20 percent raise passed at the Legislature. But we need your help to make it a reality. Call your legislator and tell them to vote "yes" on a 20 percent pay raise for Arizona teachers," Ducey's statement continued.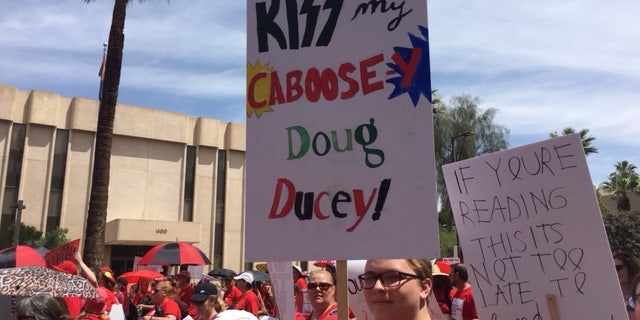 Analysis from the Arizona Republic showed the protests may have affected 840,000 of the state's 1.1 million students. But while 78 percent of teachers in Arizona voted in favor of the walkout, 22 percent were against it. They said shutting down schools was not the best way to help students. Some parents who had to find daycare, and students trying to finish the school year strong, agreed.
The teachers made it clear in word and sign that they didn't want to shut down schools, but felt it was the only option to get their point across.
"It's about bringing $1 billion back to our students," said Thomas. "It's about having a class size beneath 40. It's about having kindergarten classes beneath 22."
Thomas was speaking about educators' demand to improve the student to teacher ratio.
Arizona Educators United, a coalition but not a union, is making demands that many are working to fulfill. The problem is they are extraordinarily expensive.
They're demanding a 20 percent raise for all teachers and certified staff, competitive wages for classified staff, yearly raises until Arizona teacher's salaries match the national average, and increased funding to 2008 levels when massive cuts were made, but never restored, to navigate through the recession.
Currently the average teacher salary in Arizona is just under $49,000 a year, according to Ducey. He said his plan will raise the average salary to more than $58,000.
"It's a step in the right direction," said Hazel Chandler, a retired teacher and Arizona State House candidate.
Chandler said her daughter-in-law is a new teacher and has spent thousands of dollars of her own money to pay for classroom supplies.
Meanwhile in Colorado, teachers also were demanding more funding.
"I have never seen it this bad. There is no reason (Colorado) can't step up," said Democratic State Senator Andy Kerr. "Believe me there are still some senators here who could use an education."
Lawmakers in Colorado also have said they'll give teachers a massive funding increase, the biggest in the state since the great recession. But teachers say Colorado has a long way to go to recover lost ground because of strict tax and spending limits.
Fox News' Kelly Burke and The Associated Press contributed to this report.