Tappan Zee Bridge comes crashing down in planned demolition
The Tappan Zee Bridge had one final delay with which to torment New York City commuters.
But nearly an hour after it was supposed to happen, the symbol of drivers' frustration in the New York City region finally came crashing down Tuesday morning.
A section of the old Tappan Zee Bridge was demolished in a controlled explosion shortly before 11 a.m. ET.
State contractors used explosive charges to detonate vertical support columns on the eastern support portion of the bridge, sending the structure crashing into the Hudson River. A set of orange buoys on the water were connected to netting to help control the debris once it hit the water.
The steel from the bridge will be recovered by chains that have been laid on the riverbed, according to officials.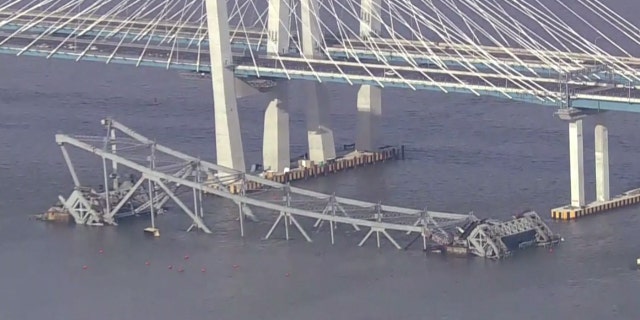 "Following the operation, portions of the old east anchor span will be visible above the water line," state officials said. "These portions will remain visible as the span is removed from the Hudson River."
The demolition had been set for Saturday, but it was postponed due to heavy winds. There are plans to dismantle the western portion without explosives sometime this year.
BRADLEY CENTER, FORMER HOME OF THE MILWAUKEE BUCKS, DEMOLISHED
Original plans called for the Tappan Zee to be removed piece by piece and avoid the use of explosives, which could have an impact on Hudson River fish habitats. Environmental experts, however, determined the old bridge was structurally unsound, preventing workers from continuing the piecemeal takedown.
Officials warned that "extensive traffic delays" were expected in both directions on Interstates 87, 287 and surrounding roadways due to the closure.
NEW YORK'S TAPPAN ZEE BRIDGE TO BE USED TO CREATE ARTIFICIAL REEFS
The New York State Thruway was shut down in both directions for about 45 minutes between Exit 9 and Exit 11.
CLICK HERE TO GET THE FOX NEWS APP
The new Gov. Mario M. Cuomo Bridge replaced the Tappan Zee. The major thoroughfare spans the Hudson River between Tarrytown in Westchester County and Nyack in Rockland County.
The Associated Press contributed to this report.