Suspected SUV thief rams unmarked car, shot dead by state trooper, officials say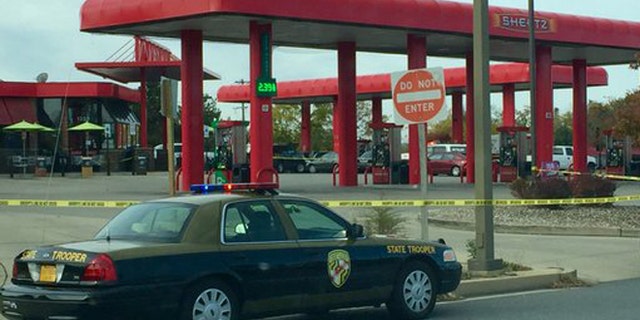 A man who allegedly rammed a stolen Lincoln Navigator into a Maryland police officer's unmarked car Monday morning is dead after he was shot by a state trooper at the scene, officials said.
Cops believe the dead man deliberately rammed the Frederick police officer's car in the parking lot of a Sheetz gas station, Maryland State Police spokesman Greg Shipley said, according to the Frederick News-Post.
The trooper is unhurt and the police officer was sent to the hospital with unknown injuries, ABC7 reported. The suspect has not yet been identified, according to FOX5DC. It is not yet known if the man was armed.
The incident began when the trooper decided to run the SUV's license plate number after exiting the Sheetz just before 9 a.m., Shipley said according to ABC2. The license plate number was a match for a vehicle stolen in Baltimore on Sunday night and the trooper called for backup. The Frederick officer responded, and, as he pulled into the parking lot, his unmarked car was rammed by the man's SUV. The man got out of the SUV and the trooper fired, killing the suspected car thief, according to Shipley.
Emergency responders initially attempted CPR, according to the News-Post.
A Verizon employee, working across the street from the gas station, said he witnessed the shooting.
"I was outside the truck and I just happened to be looking this direction when I saw the trooper with his gun out, just backing up," Larry Haines told the News-Post. "I heard four gunshots, and when I looked up, I immediately saw a trooper or a police officer with his gun out."
Two other Frederick residents, Dennis Kline and Anna Smittenaar, said the person who was killed was a black male in his 40s and appeared to be changing his shirt when they first pulled into the Sheetz parking lot. Kline said he saw the trooper, with his gun drawn, confront the man. The man then got into the SUV, Kline said, and crashed into another police vehicle, ostensibly driven by the responding officer. The man then exited the Lincoln Navigator and attempted to flee.
"And as soon as [the man] got out of the SUV, [the trooper] told him to freeze and unloaded on him," Kline said.
Frederick is about 50 miles northwest of Baltimore.