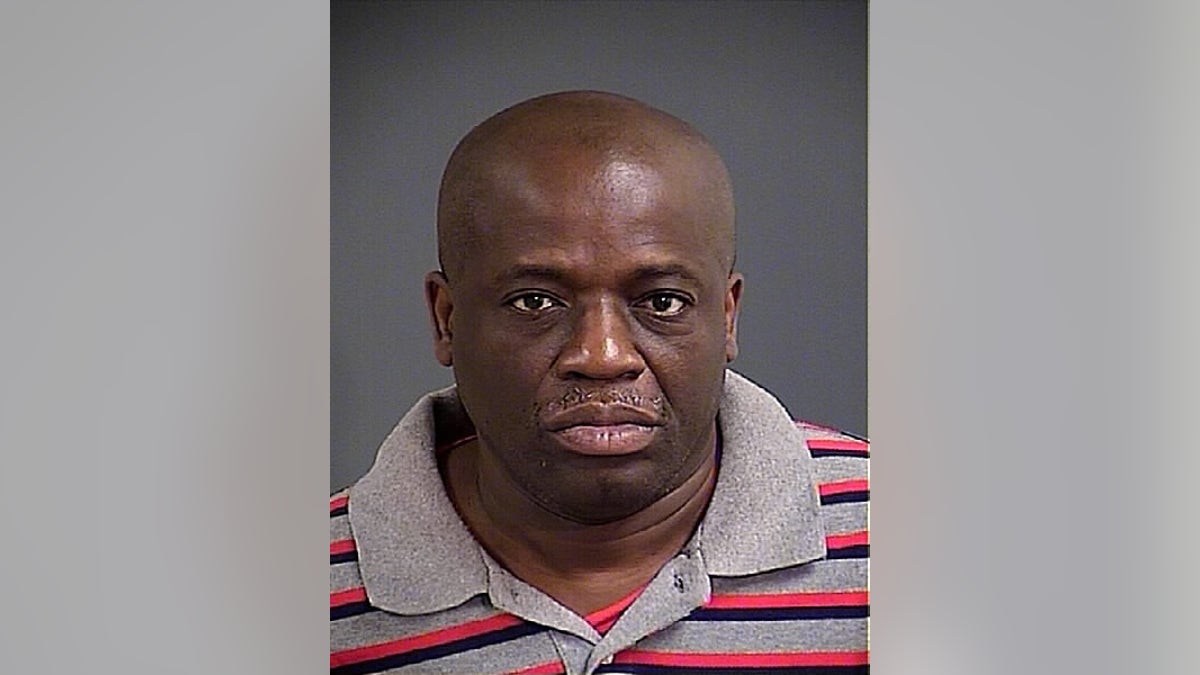 CHARLESTON, S.C. – The man who police say killed a Charleston chef inside a restaurant filled with tourists had been convicted of violent crimes at least twice since the 1980s and struggled with mental illness, according to legal records.
Thomas Demetrius Burns, 53, remained hospitalized Friday, the day after he was shot by police to end a hostage standoff that followed the slaying at Virginia's restaurant on a busy street of shops and upscale eateries in downtown Charleston.
Authorities released his name Friday. Charleston police say Burns marched into the restaurant with a gun at lunchtime Thursday and killed Virginia's 37-year-old executive chef, Shane Whiddon. Authorities and one of the restaurant's owners have said the gunman had been fired from his job as a dishwasher at the restaurant.
One Virginia's customer, Peter Siegert IV of Galesville, Maryland, said a man wearing an apron and a ball cap came into the dining room and announced: "There's a new boss in town." Siegert said the man held a revolver at his side.
The gunman ordered patrons to get on the floor and crawl toward the back of the restaurant, Siegert said, and they fled through rear exits as he shouted "get out!" Three hours later, police freed one hostage who also wasn't injured.
Charleston Mayor John Tecklenberg said Thursday the gunman appeared to have a history of mental illness. A court document from April 2010 appears to confirm that. Burns was facing drug charges at the time and a Circuit Court judge ordered a mental evaluation.
"The defendant has schizophrenia and repeatedly accuses defense counsel of working against him," Judge Kristi Lea Harrington wrote in her order. She gave no further details.
Burns remained Friday at the Medical University of South Carolina, under the guard of sheriff's deputies. Charleston County sheriff's spokesman Maj. Eric Watson said Burns had not been formally charged. He did not know the suspect's condition and the hospital declined to release information. Authorities said Thursday the suspect had been critically wounded.
South Carolina Law Enforcement Division records showed Burns with a criminal history spanning more than three decades. He was sentenced to 25 years in prison after being convicted in 1983 of armed robbery and assault and battery with intent to kill in 1983.
The charges stemmed from a 1982 holdup in which a Charleston pastor was shot in the spine. Burns, then 19, was among three teenagers charged in the crime, but he was not accused of pulling the trigger, The Post and Courier reported , citing reports from its news archives.
In June 2012, Burns was convicted of robbery and second-degree assault and battery. Court records say Burns snatched another man's cellphone. When the owner fought back, Burns slashed him across the face with a sharp object, causing a "severe laceration" on the left side of the victim's face from his eye to his lip. He was again sentenced to prison.
Whiddon was hired a year ago as the top chef at Virginia's. The Georgia native had been cooking for more than 17 years at restaurants in the South, including at the Sea Island Company's posh resort on the Georgia coast, according to Holy City Hospitality, the company that owns Virginia's.
"He was just a gem," a weeping Terri Thomas Wall, one of Whiddon's neighbors, said in an interview.
He lived with his wife and two young sons in a home that had previously belonged to his mother in nearby Goose Creek, Wall said. Whiddon and his wife recently rushed clothing and personal items to a local family whose home caught fire, she said, and he was always quick to offer Wall help her when her lawnmower wouldn't start or she had trouble with a stubborn water spigot.
Meanwhile, Whiddon juggled a busy schedule between his work at the restaurant and family life.
"That man would leave early in the morning and not come home until late at night," Wall said. "He loved to fish. He was always outside when he wasn't working. Outside with his kids or working in the yard."