Survivors who escaped flaming helicopter remain hospitalized as three killed are identified
The three victims of a deadly helicopter crash in a remote area of the Grand Canyon were identified by authorities Monday, as survivors of the wreck remained in a Nevada hospital.
The Hualapai Nation Police Department said Becky Dobson, 27, Jason Hill, 32, and Stuart Hill, 30, were killed when the Papillon Grand Canyon Helicopters chopper -- which was ferrying British tourists -- crashed due to unknown circumstances Saturday evening on the Hualapai Nation's land near Quartermaster Canyon, by the Grand Canyon's West Rim.
Dobson was a receptionist at a veterinary practice in the seaside English town of Worthing, and had previously been an au pair in Australia, according to Sky News.
Dobson had described her favorite things as working with her horse, Buddy, and traveling in a profile on the veterinary practice's website, adding her dream was to be a veterinary nurse.
Jason Hill, who worked at the law firm Shoosmiths, and his younger brother Stuart, a Mercedes salesman, had saved up for what they thought would be the trip of a lifetime, family members told The Evening Standard.
Their father, Reverend David Hill, told the newspaper that "Six of them went out for my son's 30th birthday. They had saved for a year to go, and it was a helicopter accident. We are absolutely devastated."
Hill added the two brothers "loved each other" and the only comfort was that the two "went together."
"They were truly loved by lots of people. They were incredibly close, and as parents we feel blessed to have had them, but a light has truly gone out," Hill told The Standard.
The four survivors of the crash, 42-year-old pilot Scott Both, Ellie Milward, 29; Jonathan Udall, 32; and Jennifer Barham, 39, remained at a Las Vegas hospital in critical condition.
THREE BRITISH TOURISTS KILLED IN GRAND CANYON HELICOPTER CRASH, 4 OTHERS HOSPITALIZED
"We are providing support to the families of six British visitors involved in a helicopter accident at the Grand Canyon on February 10, and we are in close contact with the U.S. emergency services," a British Foreign and Commonwealth Office spokeswoman told Sky News.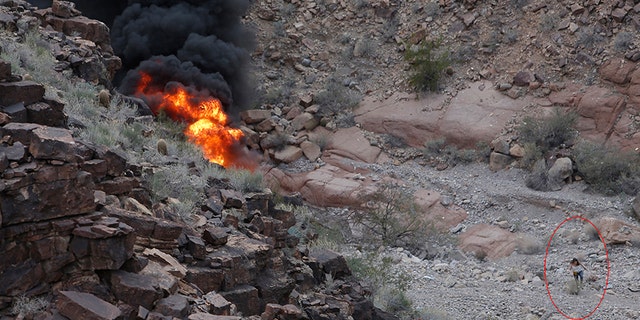 Windy conditions, darkness and the rugged terrain made it difficult to reach the helicopter's wreckage, Hualapai Nation police Chief Francis Bradley said. Rescue crews had to fly in, walk to the crash site and use night vision goggles to find their way around, he said.
A witness to the crash on the canyon's jagged rocks said he saw flames and black smoke spewing from the crash site, heard explosions and saw victims who were bleeding and badly burned.
"It's just horrible," witness Teddy Fujimoto, a Las Vegas photographer who was doing a wedding shoot at the time of the crash, told the Associated Press. "And those victims — she was so badly burned. It's unimaginable, the pain."
The tour company involved in the deadly crash promised full cooperation with crash investigators and offered its sympathy.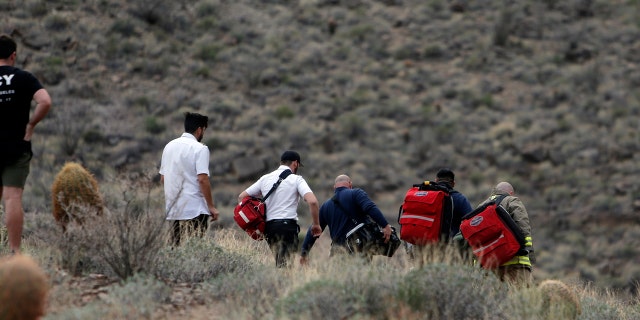 "It is with extreme sadness we extend our heartfelt sympathy to the families involved in this accident," Papillon Group CEO Brenda Halvorson said in a statement. "Our top priority is the care and needs of our passengers and our staff."
The Nevada-based company's website says it flies roughly 600,000 passengers a year around the Grand Canyon and on other tours. It notes that it "abides by flight safety rules and regulations that substantially exceed the regulations required by the Federal Aviation Administration."
The Associated Press contributed to this report.