Statue of Liberty climber speaks outside court, says decision to scale monument was 'spur of the moment'
The woman who scaled the Statue of Liberty on Independence Day in protest of the Trump administration's immigration policies pleaded not guilty Thursday.
Therese Patricia Okoumou, 44, appeared in Manhattan federal court and pleaded not guilty to charges of trespassing, interfering with agency functions and disorderly conduct.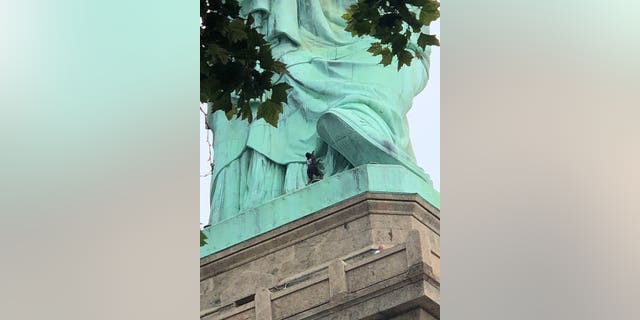 Okoumou, who was surrounded by approximately 50 supporters during her roughly six-minute hearing, told a federal judge she understood the counts against her.
Court papers also charged Okoumou with resisting arrest by refusing to leave the perch where Lady Liberty's feet stand, roughly 100 feet above ground.
STATUE OF LIBERTY CLIMBERS ATTENDS ANTI-TRUMP PROTESTS, PREVIOUSLY CHARGED WITH ASSAULT, REPORTS SAY
She was released without bail on her own recognizance, and is expected to next appear in court on Aug. 3.
A native of the Democratic Republic of Congo and now living in Staten Island, Okoumou climbed the Statue of Liberty on Wednesday after participating in an "Abolish ICE" protest with activist group Rise and Resist.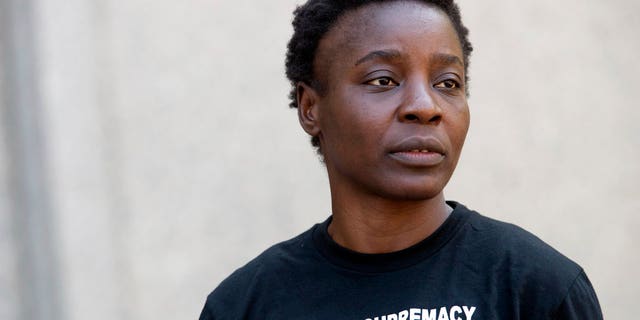 She was apprehended by New York Police Department officers after a nearly four-hour standoff as she refused to descend from the national monument's base.
The National Park Service decided to shut down the park hours before its 6:15 p.m. closing time and evacuated more than 4,000 visitors from Liberty Island as a precaution.
Average attendance to the island on the Fourth of July is usually around 20,000 to 25,000 people, agency spokesperson Jerry Willis said.
Donning a "white supremacy is terrorism" shirt outside of the courthouse on Thursday, Okoumou said her decision was "spur of the moment."
She thanked a few people, including former first lady Michelle Obama.
"Our beloved first lady that I care so much about said when they go low, we go high, and I went as high as I could," Okoumou said, noting she would not climb the Statue of Liberty again because "the judge told me not to."
Okoumou faces up to six months behind bars for each count if convicted.
The Associated Press contributed to this report.