State trooper pulls over retired cop who delivered him 27 years ago
A minor traffic stop in New Jersey took one state trooper back down memory lane – 27 years back, to be exact.
Trooper Michael Patterson stopped retired New Jersey police officer Matthew Bailly on June 1 over a minor motor vehicle violation in Kingwood Township. During the stop, Patterson learned that Bailly was retired from the same town in which he'd grown up.
Small world, yes. But it was about to get even smaller. Bailly, being familiar with the area, asked the young trooper where he'd lived. To his surprise he recognized the address because 27 years ago he responded to a call there, where he delivered a baby named Michael.
"It was years ago. It was the first baby I delivered," Bailly can be heard saying to Patterson on body cam footage.
"At the house?" Patterson asks.
"In the bedroom, oh yeah. By myself," Bailly replies.
"That was me, that was me!"
Bailly replies incredulously, "Get the hell out!"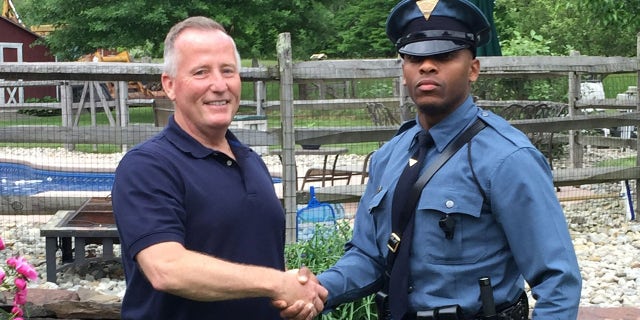 On Oct. 5, 1991, Bailly was dispatched to a home on Poe Place in Piscataway; a mother had gone into labor while shopping, police said in a Facebook post. She barely made it home, where she was carried inside by Patterson's father. Balliy then showed up, and delivered the baby after being talked through the procedure by a doctor.
Nearly three decades later, the pair finally met during that routine, fateful traffic stop.
Patterson and his mother later visited Bailly and his wife at their home to top off the remarkable reunion.