Spectator in Casey Anthony Trial Sent to Jail for Flipping Off Prosecutor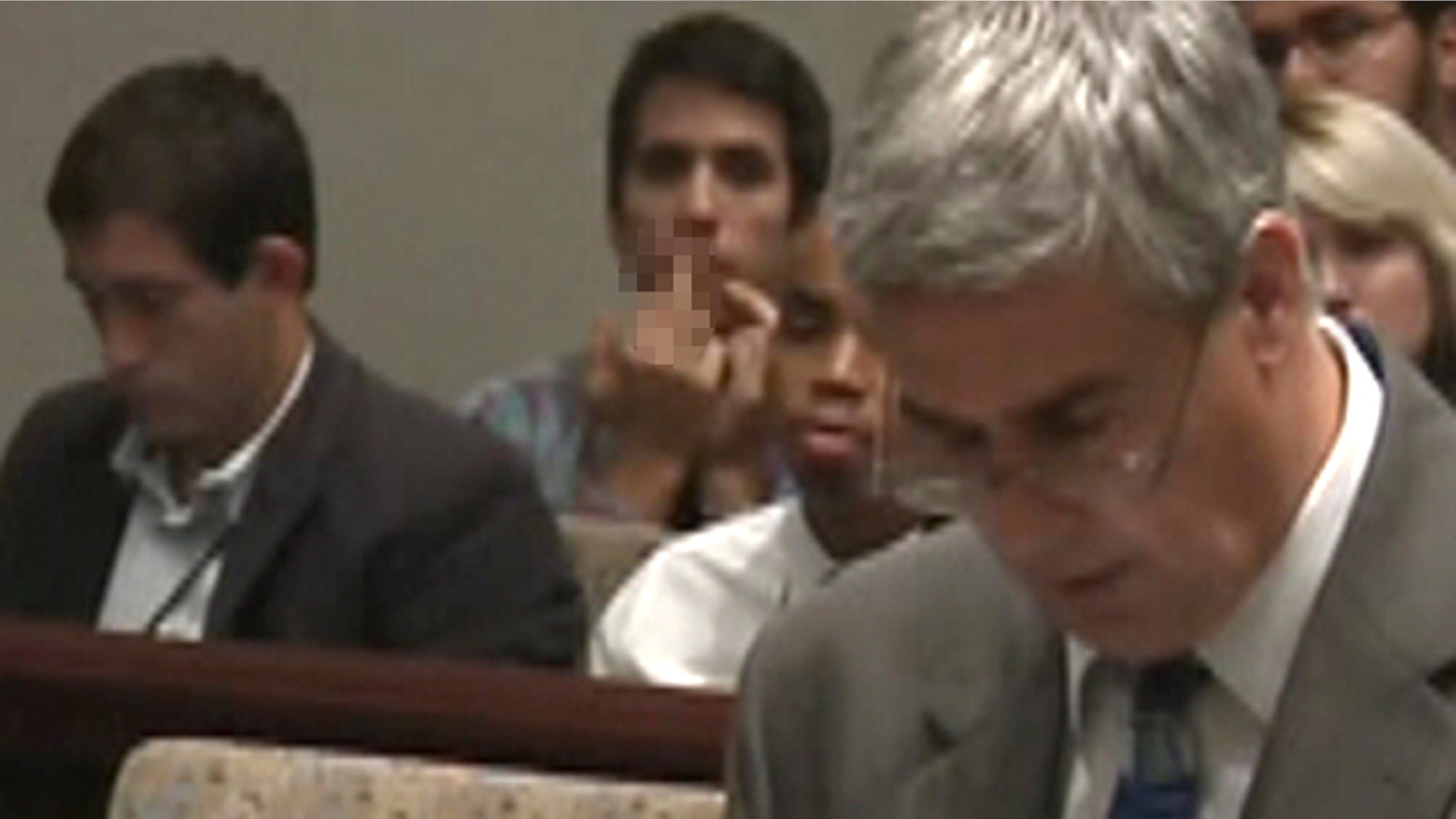 There was a guilty verdict Thursday at the Casey Anthony murder trial -- but it was not for Anthony.
A spectator, 28-year-old Matthew Bartlett, was found to be in contempt of court and ordered to serve six days in jail for raising his middle finger at one of the prosecutors.
Bartlett, who works as a server from T.G.I.Fridays, was asked by Judge Belvin Perry why he made the gesture to attorney Jeff Ashton, but Bartlett said, "I'm not even sure why I did it."
The outburst occurred after the defense rested and it was announced that Anthony, the Orlando mother accused of killing her 2-year-old daughter, would not be taking the witness stand. Perry appeared miffed and told Bartlett that his actions could have jeopardized the trial.
Video shows Ashton addressing the court with Bartlett sitting in the courtroom gallery. Bartlett, while looking in Ashton's direction, appears to scratch his face with his middle finger extended. He was immediately escorted out by deputies and brought back inside to face the judge after the jury left for the day.
Perry pointed out that there are signs posted at the front of the courtroom to discourage similar actions from the audience.
MyFoxOrlando.com spoke with Bartlett's fiancee after he was kicked out of the courtroom. She told the station that he thought Ashton was going after Anthony too hard and that she wasn't getting a fair shake in court.
Bartlett was found guilty of direct criminal contempt and sentenced to six days in Orange County Jail, where Anthony is being held. Perry also imposed a fine of $400, along with applicable court costs.
Bartlett said he would appeal. He was assigned a public defender.