Southern California firefighters face 'unprecedented' winds in wildfire fight
The firestorm that's engulfed parts of Southern California has fire crews keeping an eye on "unprecedented" wind gusts as they work to fight the flames on what officials have described as "steep, inaccessible areas."
The National Weather Service has extended a red-flag warning through the weekend across much of the region, which indicates "critical" fire conditions exist in Los Angeles and Ventura Counties, where fires have destroyed hundreds of homes since Sunday.
"If fire ignition occurs, there will be the potential for very rapid spread of wildfire with long-range spotting and extreme fire behavior that could lead to a threat to life and property," the weather service warned.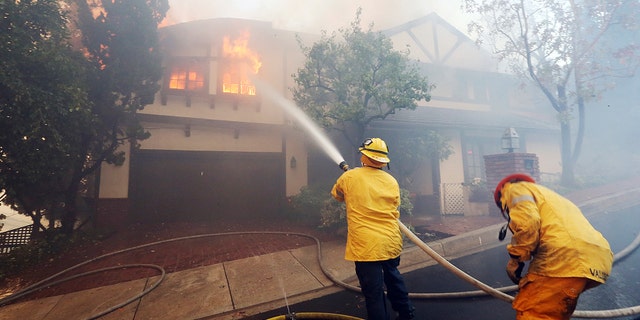 Fire officials warned those powerful winds can help to fan dangerous flames in any blaze that develops.
"These winds are pretty much unprecedented," Los Angeles County Fire Battalion Chief Trent Aronson told Fox News on Thursday.
SOUTHERN CALIFORNIA WILDFIRES FORCE MASS EVACUATIONS AROUND LOS ANGELES
Aronson said the blazes this week have been particularly challenging because 60-mile-per hour wind gusts don't allow firefighters to actually fight the flames, but instead are simply taking precautionary measures to slow the spread.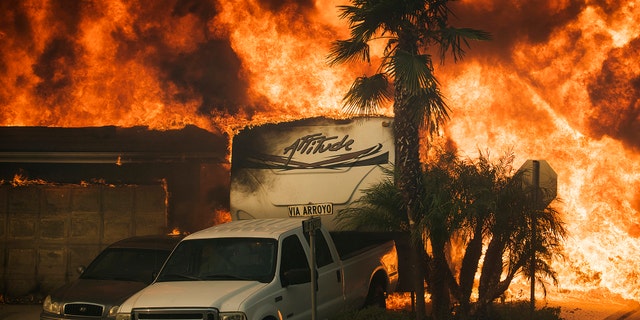 At least five fires are currently tearing through Southern California, after a new blaze erupted Thursday in San Diego County. State fire officials said the Lilac Fire was "growing at a dangerous rate of spread," and so far has burned 2,500 acres and destroyed at least five buildings, according to Cal Fire.
California Gov. Jerry Brown declared a state of emergency late Thursday for the area, known for its equestrian facilities.
Crews battling the Skirball Fire that's burned 475 acres in LA are facing two extremes – very warm and windy conditions during the day and cold conditions at night, according to Aronson.
"These winds are pretty much unprecedented."
In the initial days of a firefight, fire crews can work for a couple of days straight before reinforcements arrive, Cal Fire Spokeswoman Lynnette Round told Fox News.
Each incident team on the fire lines have a medical unit with them, but physical exhaustion also begins to set in for crews as the wildfire fight stretches into days, Aronson added.
RABBIT RESCUED FROM CALIFORNIA WILDFIRES BY ANONYMOUS HERO
Los Angeles Fire Department spokesman Peter Sanders said at a news conference Wednesday that firefighters spent much of the day trying to establish containment lines, and create fire breaks using hand crews to get as much as they could contained before the wind worsened.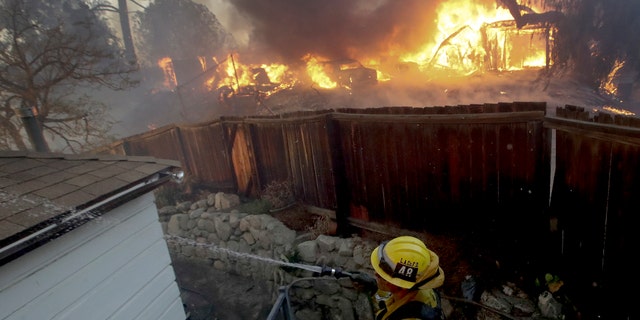 "A lot of the area of this fire is in steep, inaccessible areas, inaccessible terrain that hasn't burned in decades, if not longer," Sanders said. "So some of the areas are very hard to get to during the day, it's obviously very harder at night."
Air tankers that were grounded much of the week because of high winds in Ventura County flew on Wednesday, dropping flame retardant on the Thomas Fire. Around 2,500 firefighters are working to attack the blaze about 60 miles north of Los Angeles before winds picked up again. The blaze is only 5 percent contained and has burned 96,000 acres.
"We're basically in an urban firefight in Ventura, where if you can keep that house from burning, you might be able to slow the fire down," Tim Chavez, a fire behavior specialist at the blaze, said during a news conference. "But that's about it."
Further south, crews continued to battle the Rye Fire in Los Angeles County, which as of Thursday had burned 7,000 acres and was 15 percent contained, according to Cal Fire.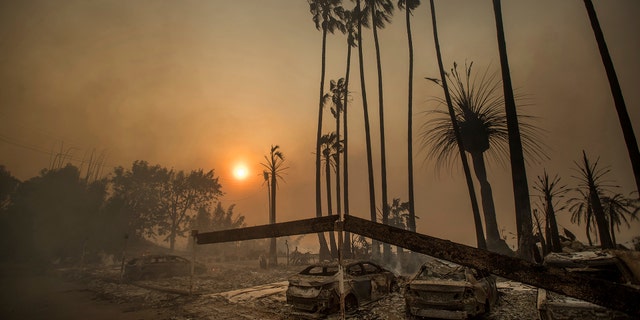 County fire spokesman Kenichi Haskett told Fox News on Thursday that fire crews don't usually experience blazes as seen this week so late in the year, but Southern California has not gotten any rain recently.
"It's dry, so we're faced with a lot of dry vegetation and dead trees," Haskett said.
CALIFORNIA FAMILY WHO LOST HOME TO WILDFIRE FINDS WEDDING RING AMONG RUBBLE
There is help coming to the region from other parts of California and neighboring states.
Oregon's Office of Emergency Management announced on Tuesday that 10 strike teams were heading to southern California to help, and the Oregon State Fire Marshal reported five additional strike teams are being ordered.
Portland firefighter Damon Simmons told FOX 12 Oregon everyone is still in shock over the voracity of the wildfire season. But even during the holidays, there is no question where they want and need to be.
"It's one of those things where you have those discussions and you say 'Hey look, there's a real need here in California," Simmons told FOX 12. "They need help, so maybe we can push some of those holiday celebrations back, and maybe reschedule some of those vacations because people need us."
The Associated Press contributed to this report