South Carolina governor urges new evacuations as rivers swell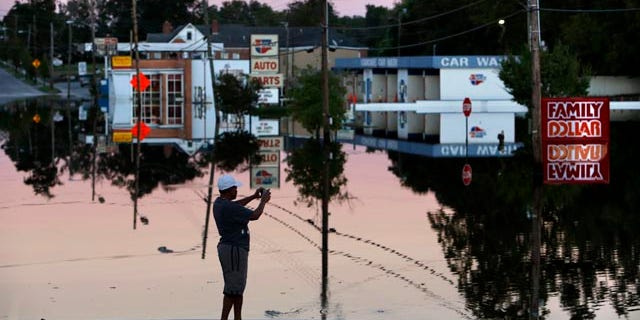 NEWYou can now listen to Fox News articles!
South Carolina Gov. Nikki Haley Thursday urged residents of Georgetown and other coastal areas to evacuate ahead of expected flooding, as storm water flows down swollen rivers toward the coast.
Haley said people in Georgetown, Pawleys Island and Jamestown should "strongly consider evacuating," and asked people to convince relatives in the area to leave.
"We are having an issue getting those people to leave because they have been in hurricane situations," she said. "This is, as the general said, 'a different kind of bad.'"
Haley said flooding is expected in Georgetown in the next 12 hours, followed by Jamestown and the Givens Ferry area in the next 72 hours.
She said the standing water could last nearly two weeks.
Republican presidential candidate Sen. Lindsay Graham warned the disaster could "break the bank" of federal emergency funds, possibly topping more than $1 billion. However, Graham added the federal lifeline must be treated with care to avoid a "pork-laden monstrosity" like the federal government's aid package to the Northeast after Hurricane Sandy in 2012. He warned state and county officials not to use the disaster as an opportunity to ask for money unrelated to flood damage.
He also said it would take weeks to get a reliable damage assessment.
About 1,000 residents near the compromised Beaver Dam were told to evacuate Wednesday morning, though the order was lifted several hours later when crews shored up the dam.
Officials were monitoring 70 dams across the state, with 14 having already failed. However, Haley said South Carolina was fortunate that those represented only a small fraction of 2,000 or so dams regulated by the state.
During a Wednesday news conference, Haley and other officials were asked repeatedly about whether the state had spent enough in previous years to maintain dams and other infrastructure.
"I think the analysis of this can be done after" the danger from the floods passes, she said in one testy response.
In the most recent storm-related deaths, a group of five railroad workers were in a pickup truck when it drove past a barricade and plunged into the water where pavement was washed out. Three men in the pickup managed to get to safety around 3 a.m. Wednesday and divers later found the bodies of two men, authorities said.
The workers were in town to help repair washed out tracks.
Sheriff's spokesman Lt. Curtis Wilson said the barricade was in the wrong lane, but regardless, the railroad workers should not have been out because there was a city-wide curfew in place.
Richland County Sheriff Leon Lott said all nine deaths in the county have come from people trying to drive in flooded areas. Officers have located the cars belonging to several other missing people.
"I'm fearing the worst on that," Lott said.
In another image of the storm's otherworldly toll, state officials said caskets have popped out of the ground in 11 instances in six counties. Many of the living have returned home to find they have lost everything.
Wendy Dixon burst into sobs after realizing her wedding album and dozens of photos of her two sons and three grandchildren were destroyed.
Overcome with emotion and barely able to walk across her waterlogged carpet, Dixon grasped the arm of a niece inside the Columbia apartment.
"Everything is gone!" she wailed. "My clothes and all can be replaced. But my little things, my pictures, are all gone."
And in an extraordinary move for the college football-crazy South, the University of South Carolina announced it was moving Saturday's football game against No. 7 LSU some 700 miles to Baton Rouge, Louisiana. The university said more than 80,000 fans expected for the game in Columbia would have put too much stress on weakened infrastructure.
The Associated Press contributed to this report.