Skull of missing St. Louis man found in vacant home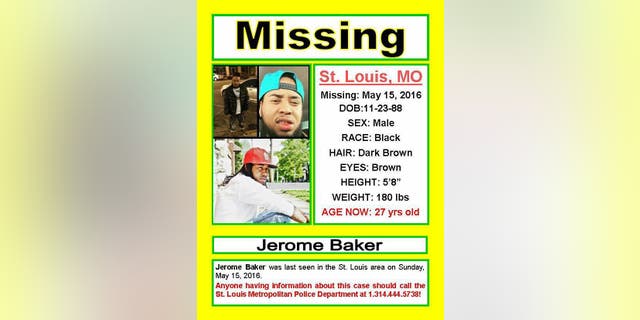 A human skull discovered by a utility worker in St. Louis, Missouri, last October has been identified as that of Jerome Baker, a local rapper and entertainment company owner, the St. Louis Post-Dispatch reported.
The 28-year-old married father of four was initially reported as missing on May 15, 2016, by a friend after Baker failed to show up as planned for a family outing at Six Flags. Authorities have now reclassified the original missing person's report as a homicide. The investigation is ongoing and a cause of death has not yet been determined.
CALIF. FATHER ARRESTED ON SUSPICION OF KILLING MISSING SON
LAWMAKERS CALL ON FBI TO HELP FIND STRING OF MISSING BLACK GIRLS IN WASHINGTON
Last month, before the remains were identified, Baker's family set up a GoFundMe page to assist in taking care of his four children, ages 8-13, who are said to have been diagnosed with PTSD since their dad's disappearance.
"Please rest assured that all proceeds will go toward his rental property and children," reads the crowd-funding campaign. "The amount of stress and heartbreak that has been put on our family is sometimes overbearing, but with the support of friends and family we will make it through this difficult time."