Sheriff Accused of Spoiling Evidence as Trial Resumes in Case of Murdered Pregnant Marine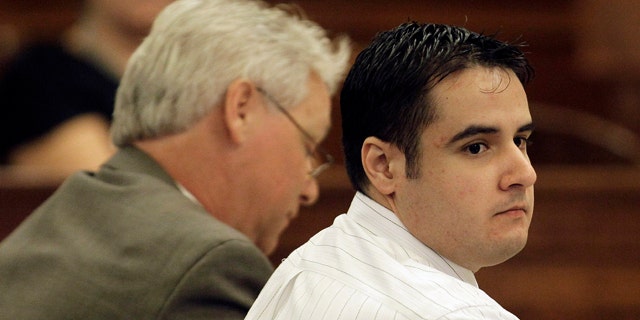 NEWYou can now listen to Fox News articles!
A sheriff who used a divining rod to search for the buried corpse of a pregnant Marine obscured a crime scene and made it pointless to collect shoeprints near the grave, an investigator testified Monday.
State Bureau of Investigation Agent Matthew Clifton said evidence near a firepit in the backyard of ex-Marine Cesar Laurean was obliterated by Onslow County Sheriff Ed Brown.
"He bent a clothes hanger and made it into an L-shape," Clifton said. "He was holding it in his hand with the short end in his hand and the other end sticking straight out."
Clifton wrote in his report of the search of Laurean's home that "no shoe prints were taken due to the sheriff's actions."
Cesar Laurean, 23, of Las Vegas, is accused of killing Lance Cpl. Maria Lauterbach, 20, of Vandalia, Ohio, whose body was discovered buried under the firepit. Laurean has pleaded not guilty to first-degree murder. He faces life in prison if convicted.
Brown declined to comment Monday. He is on a list of more than 100 people who may be called to testify at the trial.
Hours before the search, Laurean fled his home. He left behind a note for his wife alleging that Lauterbach had come to their home unexpectedly and slashed herself across the throat with a knife.
District Attorney Dewey Hudson told jurors during his opening statement last week that an autopsy showed Lauterbach died from a blow to the head. DNA tests of blood taken from a crowbar and spots in Laurean's garage found Lauterbach's blood, Hudson said.
Clifton also testified Monday that a white T-shirt with a graphic print on its chest was recovered from the master bedroom of Laurean's home and appeared to resemble a shirt worn by a man in ATM photos who tried to withdraw money from Lauterbach's bank account.
Copies of the photos displayed for the jury last week showed a man standing to the side of the ATM, his face almost entirely out of the image. The photos captured a failed effort to withdraw cash from Lauterbach's account 10 days after she was last seen alive.
Born in Guadalajara, Mexico, Laurean was arrested in western Mexico in April 2008 after an international manhunt. Prosecutors agreed not to seek the death penalty so Mexico would return Laurean to the U.S.
Lauterbach accused Laurean in May 2007 of raping her and fathering her unborn baby. She later told a military prosecutor that Laurean couldn't be the father based on a medical examination and recalculated conception date. A DNA test showed Laurean was not the father.
Prosecutors are trying to weave together details -- including computer records, investigator testimony and Lauterbach's bank account activity -- into a series of facts that point to Laurean as the culprit.
Defense attorney Dick McNeil said during his opening statement last week that prosecutors will be unable to prove that Laurean killed Lauterbach. He also suggested that Laurean's wife, Christina, was home at the time of Lauterbach's death, but McNeil did not accuse anybody of a crime.