Seattle fans left reeling after 'heartbreaking' Super Bowl loss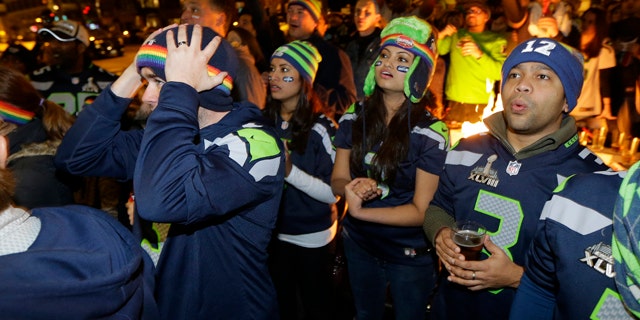 SEATTLE – People in Seattle poised to celebrate a second straight Super Bowl win by the Seahawks were instead left stunned.
"I'm sad," said Rebe Wolverton, who was part of a crowd watching Sunday's game on large screen televisions outside a restaurant near Century Link Field.
A late interception preserved New England's 28-24 victory.
"This hurts," said Wolverton, who was wearing a Seahawks winter cap and holding a bag of Skittles, the favorite candy of the team's running back, Marshawn Lynch.
Moments before the turnover Seattleites were certain their team would score with a run from the 1-yard-line. The boisterous crowd in the Pioneer Square neighborhood near where the Seahawks play home games was instead left shocked.
In the city's University District police officers kept watch on a crowd of dozens of fans, some waving "12th Man" flags.
In north Seattle, 46-year-old George Bunting was mystified that Seahawks coach Pete Carroll would make the "wrong decision" and decide to throw instead of having Lynch take the ball.
"This is a major upset. He should've just used the man," Bunting said, referring to Lynch.
Emily Simpson and Steven Baily were already for another celebration.
"This is heartbreaking," the 25-year-old Simpson said. "I didn't hear any fire arms or fireworks or anything. But it's just a game."
Baily called the Seahawks play calling "just insane."
"I was hoping they were going to just fall into the goal. That's all that needed to happen," said Baily, 23.