School choice gives parents the power to break teachers unions' chokeholds on students: Corey DeAngelis
'Kids have their own union now. They're called parents,' school choice advocate says
The growing movement to give parents the ability to choose where to send their children to school has helped them break through teachers unions' chokeholds on education, a school choice advocate told Fox News.
"Finally, we are freeing families from the clutches of the teachers unions once and for all, and there's not a dang thing they can do about it," Corey DeAngelis, a senior fellow at the American Federation for Children, told Fox News.
TEACHERS UNIONS ARE TRYING TO TRAP KIDS IN THEIR INSTITUTIONS, SCHOOL CHOICE ADVOCATE SAYS. WATCH: 
WATCH MORE FOX NEWS DIGITAL ORIGINALS HERE
The school choice debate has taken a front seat as parents push back against curriculum decisions and as more states pass legislation offering more educational options for students. School choice, which allows tax dollars to follow a student rather than a specific school, would free families from the teachers unions' control and allow them to pick an education system that aligns with their values, DeAngelis said.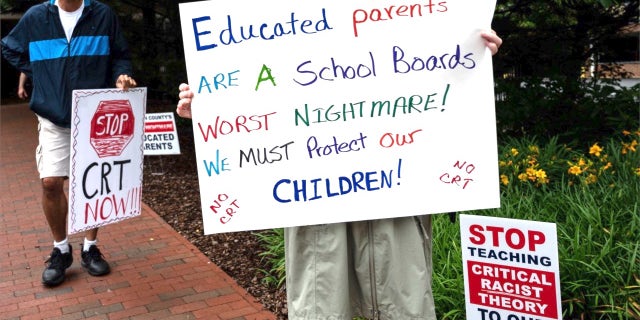 "The teachers union monopoly wants to force kids to attend their residentially assigned, government-run institutions that they staff," DeAngelis told Fox News. "It's about maintaining power. It's about maintaining a monopoly on the minds of other people's kids."
BIDEN, PELOSI, OTHER TOP DEMS SENT KIDS TO PRIVATE SCHOOL BUT OPPOSE SCHOOL CHOICE
"For far too long in K-12 education, the only special interests who had any influence were the ones who represented the employees in the system," he continued. "But now the kids have a union of their own, and they're called parents."
Debates over what topics are appropriate for classroom discussions, such as critical race theory and gender identity, have become flashpoints nationwide. Parents have increasingly spoken out at school board meetings to voice concerns and advocate for a say in their kids' education.
"School choice is a winner for everybody except for Randi Weingarten and the teachers unions who want to trap your kids in schools that aren't working for them," DeAngelis said.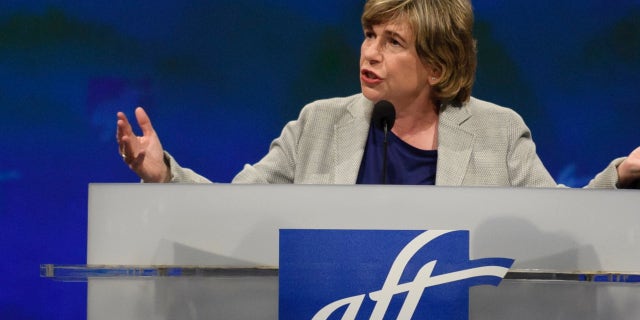 TEACHER UNION CONTRACTS AIMED TO INDOCTRINATE STUDENTS IN 'LEFTIST IDEAS,' PROMOTED RACE-BASED HIRING: REPORT
Weingarten, the president of American Federation of Teachers, previously said school choice advocates aimed to privatize and defund public education. She criticized efforts to divert funds from public districts to bankroll school choice initiatives.
"America's parents don't want vouchers that syphon money away from the schools that 90 percent of kids attend—they want to invest in public schools and get educators the resources they need to create safe classrooms, boost academic skills, and pave pathways to career, college and life," a spokesperson for the union told Fox News in a statement. She pointed to a study that found "parents and voters back improving education in public schools over more 'school choice'" by an 80-20 margin.
That argument is an "admission that they're not confident in the product that they're providing," DeAngelis told Fox News. "Why would giving families a choice defund public schools that you staff?"
DECLINING TEST SCORES, SOCIAL SKILLS CAUSED BY SCHOOL BOARDS AND TEACHERS UNIONS, MOTHER SAYS
Giving parents a choice wouldn't exclude public schools, but would allow for a wider array of options, according to DeAngelis.
"We don't want to destroy the public schools," he told Fox News. "We want to make them better."
"When you inject competition into that system, the district starts to allocate more resources into the classroom so they don't upset parents, and they have to compete for the employees," DeAngelis added.
Math scores saw their largest decreases ever in 2022, according to the Nation's Report Card. Reading scores also dropped to levels not seen since 1992 for fourth and eighth graders across the country.
WHAT IS SCHOOL CHOICE AND WHY IS IT SO CONTROVERSIAL? WATCH: 
School choice would also allow disadvantaged children more opportunities to access educational options like private schools that only some families can afford, DeAngelis said.
"Why should they be forced into this one-size-fits-all system?" DeAngelis said. "School choice is an equalizer."
CLICK HERE TO GET THE FOX NEWS APP
Arizona became the first state to pass universal education scholarship accounts to all 1.1 million K-12 students in the state in 2022. Other states, including Iowa, Utah and Florida, have followed in pushing school choice legislation.
"It's the teachers unions' own fault for overplaying their hand and awakening a sleeping giant: parents who just want more of a say in their kids' education," DeAngelis said.
To hear DeAngelis' full interview, click here.
Editor's note: This story has been updated to include comment from the AFT.