San Francisco police fatally shoot stabbing suspect on Market Street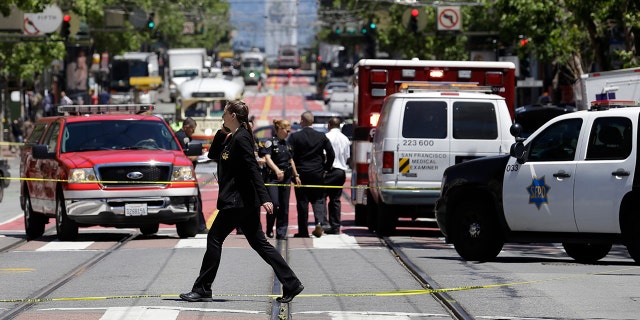 San Francisco police officers shot and killed a man they say was stabbing another man on the city's busy Market Street Wednesday.
Police Chief Bill Scott told reporters the shooting happened shortly before 11:30 a.m. when the officers came upon the stabbing while walking their regular beat in the neighborhood.

He said a white man was stabbing an Asian man. Witnesses told KTVU that the two men had been arguing.
The stabbing victim was taken to a local hospital. His condition was not immediately available.
"Loss of life is always tragic no matter how it happens," Scott said. "We try to avoid it when we can, but we have an obligation to protect the public."

The street was closed for hours as police investigated, disrupting numerous bus and subway lines. Crowds pushed up against the police tape on an unusually warm day in the city as the lunch hour approached, watching officers collect evidence.

Scott gave few details during a short news conference, declining to discuss how many shots were fired, how many officers fired or exactly where the shooting occurred. Most of the police action appeared to occur in front of and inside a Subway sandwich shop.

Scott was sworn as chief in January and this was the first fatal shooting by an officer this year. Scott replaced Greg Suhr, who resigned under pressure last year after police shot and killed an unarmed 29-year-old woman driving a stolen car last May.

Mayor Ed Lee last year also called in the U.S. Department of Justice to help the police department reform its policies, procedures and training after officers shot and killed two minority suspects wielding knives. Both shootings led to widespread protests in the city, which started with the December 2015 shooting of Mario Woods, 26, who was black. That was followed by the April 2016 shooting of Luis Gongora, 45, a homeless Latino man.

The San Francisco District Attorney is still investigating the last three fatal shootings in the city. In April, the district attorney cleared two plainclothes detectives of any criminal wrongdoing for shooting Amilcar Perez-Lopez, 21, six times in the back in 2015. Perez-Lopez was also armed with a knife and the detectives said they shot when the suspect appeared to lunge at one of them.

The DOJ concluded its review of the SFPD in December and recommended more patience when responding to suspects armed with guns and other weapons that aren't an immediate threat to officers' safety.

The Associated Press contributed to this report.