Aaron Hernandez is an innocent man.
At least, that is, in the eyes of the law in Massachusetts.
Under a long-standing legal principle in the Bay State, Hernandez will have his first-degree murder conviction vacated because he died before the completion of the appeal process, which his lawyers initiated after he was convicted by a jury. The former star tight end for the New England Patriots, killed himself last week in prison while serving a life sentence for the 2013 slaying of semi-professional football player Odin Lloyd.
"The public definitely has a right to be surprised by this principle, but this is not surprising to anyone in the legal community in Massachusetts," Martin Healy, chief legal counsel at the Massachusetts Bar Association, told Fox News. "Right now the matter is pretty pro forma."
The latest twist in the Hernandez murder case drama -- coming less than a week after the late football player was found hanging in his prison cell -- has been particularly hard on the family of Odin Lloyd.
"It's been heartbreaking and a rollercoaster ride for our family," Olivia Thibou, Lloyd's sister, said. "It's a lot to process and it all happened so fast. We are still trying to grasp what is going on."
Thibou added: "It's been four years and we can't catch a break."
The legal principle that will posthumously reverse Hernandez's conviction is known as "abatement ab initio," -- a Latin phrase meaning "from the beginning" – and is a common law dating back to English law when Massachusetts was a British colony. The law stipulates that it is discriminatory to a defendant or his or her survivors to have a conviction be allowed to stand before they had a chance to clear their names through the appeal process. The doctrine is meant to safeguard defendants against any errors or injustices that might have occurred at trial and delays a final verdict until the state's highest court can hear appeals.
Hernandez's lawyers on Monday formally asked to have the case against the former NFL star vacated – in Massachusetts all first-degree murder convictions are directly sent to an appeals court – even as Bristol County Thomas M. Quinn III vowed to file an opposition to the motion. The hearing to vacate the conviction is slated to take place at the Fall River Superior Court on May 9, and the Bristol County District Attorney's office has until the morning on May 1 to file an opposition.
"We have been reviewing the matter and we do plan to file an opposition to the defense within the next week," Gregg Miliote, a spokesperson for the Bristol County District Attorney's office, said. "We will oppose this."
It's been heartbreaking and a rollercoaster ride for our family.It's a lot to process and it all happened so fast. We are still trying to grasp what is going on.
Legal experts, however, say this will be an uphill battle given that "abatement ab initio" is such an established part of Massachusetts state law and removing a conviction after the death of a high-profile defendant has precedent in the state.
Former Roman Catholic priest John Geoghan's child molestation conviction was vacated after he was beaten to death in his prison cell in 2003. John Salvi, who was convicted of killing two abortion clinic workers in Brookline in 1994, also had his convictions dismissed after he killed himself in prison.
"It's a long shot move by the district attorney, but I can understand the sentiment behind it and why he wants to oppose it," Healy said.
Hernandez having his conviction vacated could also have a dramatic impact on his own family as the Patriots might be contractually obligated to pay his estate a $3.5 million bonus that was stopped hours after his murder arrest in 2013. The NFL team might also owe Hernandez an additional $2.5 million in guaranteed base salary that was also dropped following his arrest.
The question of reimbursement was raised by attorney William Kennedy, who is representing the families of Safiro Furtado and Daniel de Abreu. Shortly before his suicide, Hernandez was acquitted in the 2012 double murder of those two men, but lawyers are still pursuing compensation in three wrongful death lawsuits against his estate.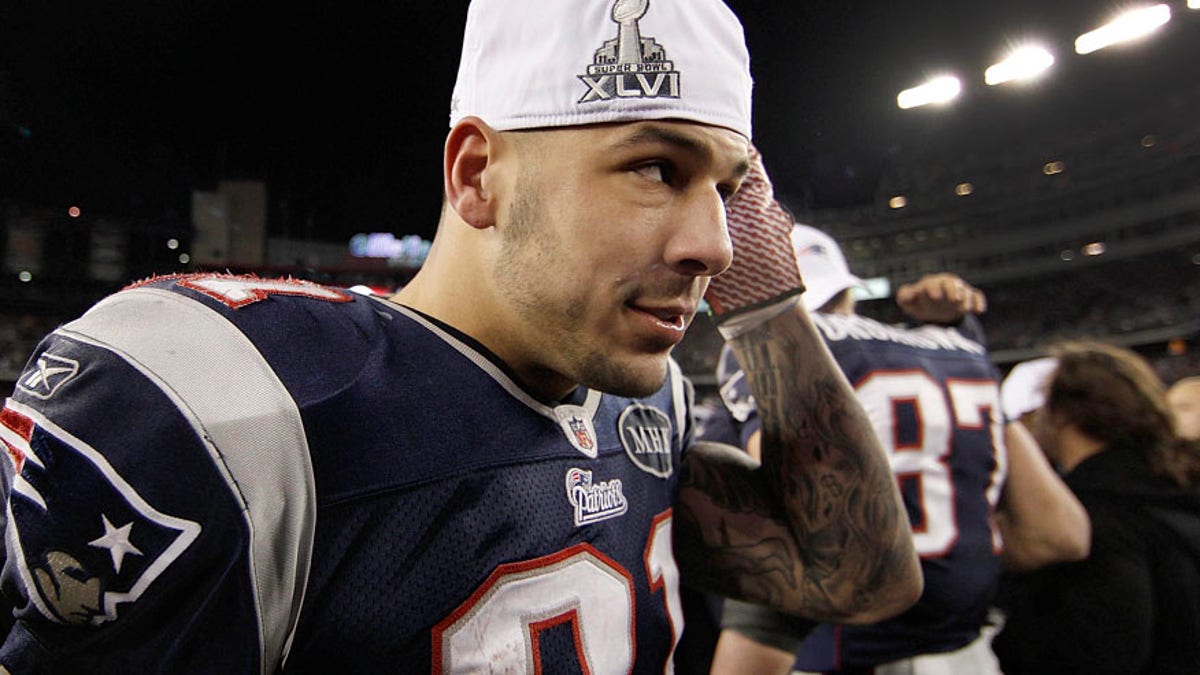 A spokesperson for the team told Fox News that it was against team policy to discuss the financial details of player contracts.
Experts argue that given the circumstances, the Hernandez family will not get any money from the Patriots very easily, if at all.
"It's going to be a difficult road for the Hernandez family to travel if they want to recover the money," Healy said.
The Associated Press contributed to this report.