Reid: Add deficit 'cap' to debt legislation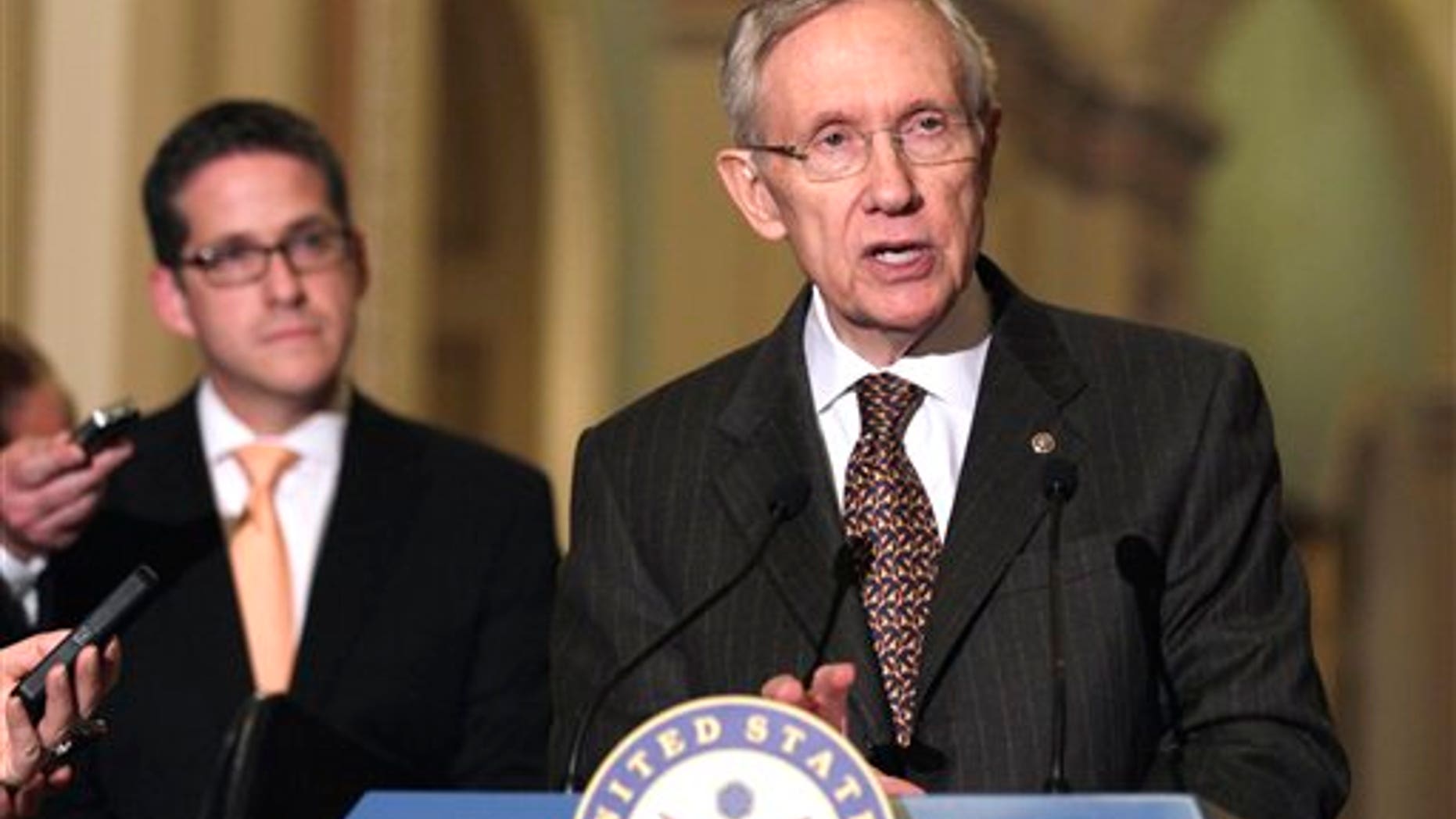 WASHINGTON – The leader of the Democratic-controlled Senate said Wednesday that any legislation increasing the government's ability to borrow more money to meet its obligations should contain a cap on how big the deficit can be in any given year.
Majority Leader Harry Reid said the mechanism would involve a new law binding Congress to reduce the deficit. The Nevada Democrat didn't give further details, but several proposals on Capitol Hill would trigger automatic spending cuts or tax increases if Congress can't meet spending or deficit targets.
"You would just have a law that says we have to do it," Reid told reporters in a conference call. "There are all kinds of triggering mechanisms."
Reid also said he would schedule a Senate vote on a controversial House GOP plan to slash the deficit. The plan by House Budget Committee Chairman Paul Ryan, R-Wis., calls for a fundamental overhaul of Medicare for future retirees — those presently 54 year old or less — by transforming it from a program in which the government pays doctor and hospital bills into a voucher-like program in which the federal government subsidizes purchases of private insurance policies.
Raising the so-called debt limit — presently $14.3 trillion — is by far the most pressing question facing Congress and President Barack Obama. The measure is required to avoid a first-ever default on U.S. obligations that would rattle financial markets.
But raising the borrowing limit is a politically poisonous vote, especially for GOP newcomers elected last year with tea party support. Many Democrats have also gone on record in favor of adding spending cut to the measure.
Treasury Secretary Timothy Geithner told lawmakers earlier this month that the borrowing cap will be reached next month but that the administration is able to take steps to shuffle other debt obligations to create room under the cap that would extend the true deadline for congressional action into July.
As for holding a vote on the House GOP budget, Reid appears to be hoping to expose divisions within the GOP. Some House Republicans have taken heat in "town hall" meetings in their congressional districts over the Medicare proposal and a Senate vote could be uncomfortable for GOP moderates like Scott Brown of Massachusetts and Olympia Snowe of Maine.
Reid's comments come a week before Vice President Joe Biden is scheduled to meet with lawmakers on what other measures to add to the upcoming debt limit legislation.
On a separate track is a bipartisan effort by a so-called Gang of Six senators — including Budget Committee Chairman Kent Conrad, D-N.D., and Sen. Tom Coburn, R-Okla. — that seeks to replicate a plan by Obama's deficit commission aimed at cutting the deficit by $4 trillion over the upcoming decade. Their plan is expected to set a series of targets and deadlines for Congress to enact legislation to cut the deficit, with automatic spending cuts and tax increases if lawmakers fail to do so. Their deliberations have taken place in secret but hope to announce details as early as next week.
The Gang of Six plan is likely to be opposed by many Republicans over its tax increases, while many Democrats are expected to recoil from its expected curbs on Social Security benefits.
"Rumors that the Gang of Six proposal may contain a substantial increase in Americans' tax burden speaks to a broader concern,' said top Budget panel Republican Jeff Sessions of Alabama. "That the public is being removed from this process by crafting a budget behind closed doors instead of in a committee that is open to the public and the press."