Ranger School grad becomes Army's first female infantry officer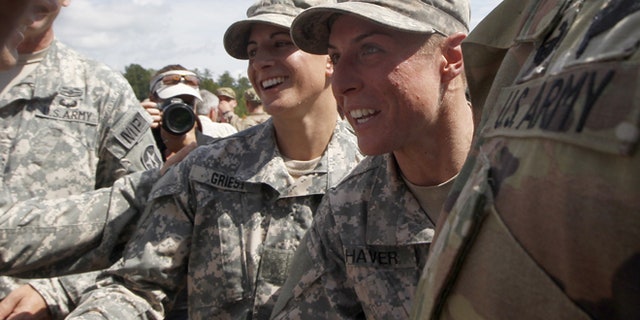 Capt. Kristen M. Griest, one of two women who graduated from the Army's Ranger School last summer, became the first woman named as an infantry officer Monday.
"Like any other officer wishing to branch-transfer, Capt. Griest applied for an exception to Army policy to transfer from military police to infantry," Maneuver Center of Excellence at Fort Benning spokesman Bob Purtiman said. "Her transfer was approved by the Department of the Army, and she's now an infantry officer."
The Army Times was first to report the move. The paper reported that Griest, a West Point graduate, is expected to graduate on Thursday with the distinctive blue infantry cord.
She has kept a low profile and has declined interviews.
In August, Griest and 1st Lt. Shaye Haver graduated as Army Rangers, ending its six decade history as an all-male institution.
At the time, the female graduates could wear the prestigious tab and were considered Rangers, but were still barred from serving in the infantry and Special Operations units, including the 75th Ranger Regiment.
However, that changed on Dec. 3, when Defense Secretary Ash Carter lifted gender-based restrictions on military service.
Griest, after her August graduation, said, "I do hope that my performance in Ranger School has been able to inform that decision, as to what they can expect from women in the military -- that we can handle things physically and mentally on the same level as men."