Raccoon reaches roof of Minnesota office building as crowds watch
A raccoon made its way to the very top of a Minnesota office building early Wednesday as a captivated audience watched in the streets and on social media.
The raccoon, which scaled the UBS Tower in St. Paul, stopped along the way for a quick nap on a window ledge of the 23rd floor — more than 200 feet above the street, according to MPR News.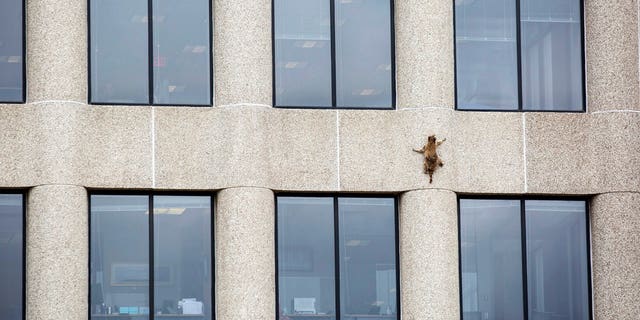 Animal control personnel hoped to get the critter down from the building before it went any higher. Officials set traps with food hoping to lure it and end the harrowing climb, the Star Tribune reported.
"We don't want to scare him," Laurie Brickley, a spokeswoman for the city's Department of Safety and Inspections, told the newspaper. "The best thing is to leave him alone."
The raccoon received its couple of hours of fame on social media as users monitored the climb through the hashtag #mprraccoon. Users posted photos of the raccoon's plight onto social media.
MPR reporter Tim Nelson tweeted a video of the raccoon "doing a little grooming" from the 23rd floor's ledge, "now that he's a social media star."
Paige Donnelly Law, which is also located in the UBS building, posted some close-up shots of the varmint, which the law firm said "seems to be doing well."
"We've been told that the building has live traps on the roof and are trying to get him to go up there," Paige Donnelly Law wrote. "We all just have to keep our fingers crossed."
Evan Frost, also of MPR News, tweeted the raccoon got a visit from the St. Paul Fire Department, and that cat food had been placed on the roof of the building.
By Tuesday afternoon, the raccoon had its own Twitter account, with its first tweet saying, "I made a big mistake."
The Associated Press contributed to this report.