Push for hate crimes law after ugly incident in North Dakota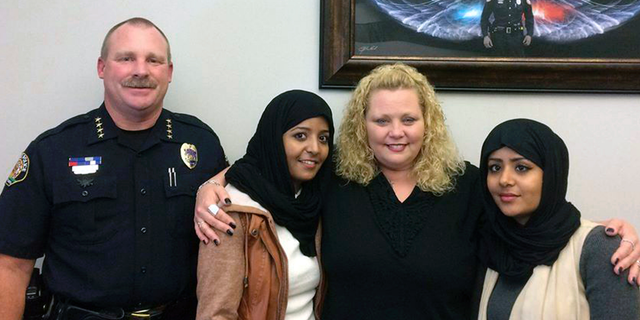 FARGO, N.D. – It was one of the uglier incidents in recent memory in North Dakota's largest city, Fargo: A white woman was captured on cellphone video shouting "We're going to kill all of you" at three Somali women in a Walmart parking lot.
After the video was posted online and was widely viewed, the dispute was papered over just a few days later, with the women meeting in the police chief's office for hugs and a posed, smiling photo. Yet that incident and others have some people pushing for a comprehensive hate crimes law in North Dakota.
Hukun Abdullahi, a leader of Fargo's Somalia community, said the Walmart incident was only the latest and most visible one. He said many others go unreported or are not charged appropriately by prosecutors. He favors a state law with enhanced sentences for hate crimes.
"This is something that can make a difference," Abdullahi said.
It's not a popular idea with lawmakers or prosecutors, who say judges already have discretion to take the nature of an offense into account during sentencing. They also note that North Dakota's every-other-year Legislature wouldn't even take it up until 2019.
Lawmakers haven't been interested in the past, rejecting two hate crimes proposals that came out of committee and turning down at least three bills meant to ban bias based on sexual orientation in housing, government, public services and the workplace. Attorney General Wayne Stenehjem declined to comment on hate crime proposals.
Aaron Birst, a former prosecutor now with the North Dakota Association of Counties, which lobbies the Legislature, said he hasn't surveyed his group about a comprehensive hate law. But he doesn't believe there is much interest in one.
He said convictions are more likely under a more wide-ranging charge.
"If I charge someone with a specific hate crime, I have to prove all of those elements beyond a reasonable doubt as opposed to proving a general assault charge, or disorderly conduct," he said.
Cass County State's Attorney Birch Burdick, lead prosecutor in North Dakota's most populous county, said he thinks judges take circumstances of bias-motivated crimes into account at sentencing.
"I don't feel that prosecutors are handicapped by the absence of it," Burdick said.
The push by human rights groups and others for hate-crimes legislation comes as North Dakota is becoming more diverse. Lutheran Social Services, which manages resettlement in the state, has relocated an average of 450 refugees a year in the past decade, most in the Fargo area.
The Walmart parking lot incident happened less than a month after a Somali man was assailed by men shouting racial epithets as he moved into a Fargo apartment. And many refugees were made nervous by a Fargo man's stated plans — following the violence in Charlottesville — to hold a pro-white rally in the city this fall.
Two years ago, a Somali-owned cafe in Grand Forks was firebombed. In that case, a Minnesota man was prosecuted under a hate crime law in the federal system, and is serving 15 years in prison. Some lawmakers say the federal law eliminates the need for state action, but the Anti-Defamation League says the feds pursue only a limited range of bias-motivated crimes and a state law would promote joint investigations.
The ADL defines hate crimes as those where a person or institution is targeted because of race, religion, ethnicity, national origin, gender, sexual orientation, gender identity or disability. The ADL says they make it possible to bring stiffer penalties.
North Dakota has no such law except for one meant to stop intimidation or interference during campaigning or voting, based on a person's sex, race, color, religion, or national origin, according to the ADL.
"There are clear gaps in both the actions and the groups covered," says Steve Freeman, ADL's National Director for Legal Affairs.
Barry Nelson, a member of the North Dakota Human Rights Coalition and the Fargo Human Relations Commission, is leading an effort to research hate crimes legislation elsewhere to see what works and what doesn't.
"There is some merit to the argument that laws alone don't solve the problem," Nelson said. "But I disagree with those who say we shouldn't try to address it through legal means."
In the meantime, Fargo Mayor Tim Mahoney said the city is ready and willing to beef up its ordinances to include hate crimes. He's working with the city attorney and police chief on a proposal.
"We have to decide what we want in it and what it would accomplish," Mahoney said.