Prosecutors say Aaron Hernandez pal Carlos Ortiz won't testify against him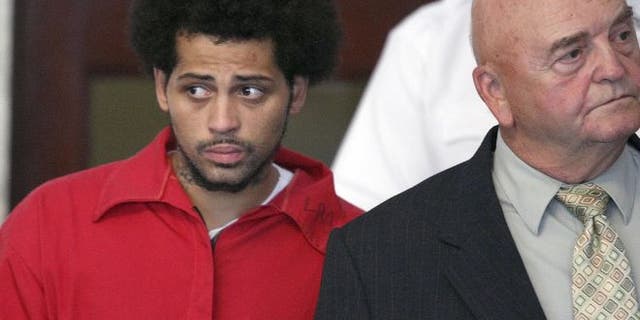 NEWYou can now listen to Fox News articles!
Prosecutors will not have Carlos Ortiz testify against former NFL star Aaron Hernandez during the latter's murder trial, according to documents filed Friday.
The documents called Ortiz, 27, "completely unreliable." Ortiz is a codefendant of Hernandez, charged with accessory to murder after the fact in the June 2013 murder of Odin Lloyd. Hernandez, a former tight end for the New England Patriots, is awaiting trial on first-degree murder and weapons charges in the Lloyd killing.
Many observers of the case had believed that Ortiz would be a key witness for the prosecution. He was arrested last summer in Bristol, Connecticut and told police that Hernandez, 24, and Ernest Wallace, 44, were outside of their car when Lloyd was shot five times in a North Attleboro, Mass. industrial park not far from Hernandez's home. Ortiz said he was asleep when he heard a gunshot. When he woke up, he saw Hernandez and Wallace get back in their car.
Ortiz also recounted alleged conversations between Hernandez and Lloyd and told police that he saw Hernandez carrying a handgun the night of Lloyd's death.
Ortiz later changed his story and said that Hernandez was alone with Lloyd outside of the car.
Also Friday, prosecutors have requested copies of Hernandez's telephone calls from the Bristol County Jail, as well as records of who visited the accused in prison. Prosecutors allege that Hernandez discussed the murder of Lloyd with friends and relatives, including his fiancee, using "coded language."
Shayanna Jenkins, Hernandez's fiancee, is charged with perjury in connection with the case and has pleaded not guilty. Hernandez's cousin, Tanya Singleton, has pleaded not guilty to contempt and conspiracy charges.
Click for more from MyFoxBoston.com
Click for more from the Taunton (Mass.) Daily Gazette