Private funds questioned in Philly supt.'s buyout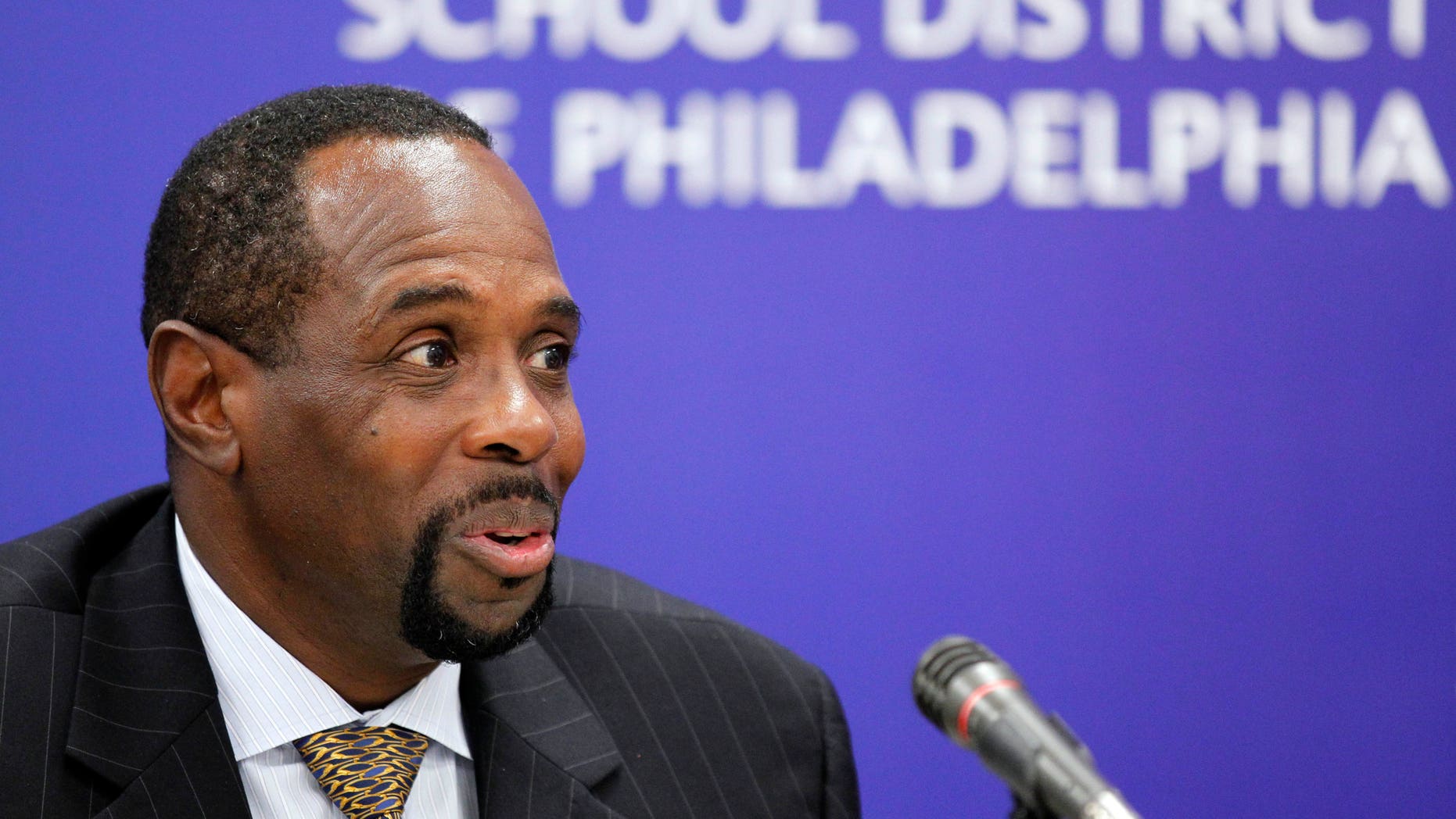 PHILADELPHIA – It took $905,000 in severance pay for the city's schools superintendent to leave, but ethics and education experts say the true price could be much higher considering nearly half the money came from anonymous sources.
The unusual contract buyout that ended Arlene Ackerman's turbulent three-year tenure as superintendent on Monday totals $500,000 in public funds and $405,000 in private money.
Without knowing who the donations came from, the public is prevented "from knowing whether or how the favor might be returned — either by the school district or by another part of government," said Zack Stalberg, president of the Committee of 70, a Philadelphia government watchdog group.
"There is no compelling reason for the lack of transparency," Stalberg said in a statement. "If the donors are insisting upon it, find other donors."
State Auditor General Jack Wagner said Tuesday that he would look into the buyout.
Mayor Michael Nutter has acknowledged making "a couple calls" to seek private donations, saying he wanted to minimize taxpayer liability for the severance.
Ackerman's compensation could have been about $1.5 million based on a contract that ran through 2013 but was recently extended to 2014. Her annual salary was about $348,000.
Ackerman's lawyer, Robert S. Nix, said Tuesday that he knew nothing about the solicitations until seeing published reports of the arrangement.
"All we focused on is making sure she got what she was entitled to under her contract," Nix said.
The concept of a public-private buyout "is certainly not typical," said Timothy Knowles, director of the University of Chicago's Urban Education Institute.
Private funds have been used to bolster compensation. In 2009, the Pittsburgh school board accepted $200,000 in philanthropic donations for then-Superintendent Mark Roosevelt to use to pay unforeseen taxes on his district-provided life insurance.
Urban superintendents in districts the size of Philadelphia — it has 203,000 students at traditional and charter schools — typically make about $273,000 annually, according to a survey by the Council of Great City Schools, a coalition of 65 large U.S. districts.
Their average tenure is about three-and-a-half years, the survey found.
Ackerman had been in Philadelphia for nearly three years in February when the School Reform Commission, the city-state panel that oversees the district, announced it was extending her contract to 2014.
The commission has been lambasted for the expensive decision, considering members turned around four months later — in the face of a $664 million spending gap — and began secretly negotiating her exit.
But in another unique turn, Ackerman donated the compensation for the last year of her contract to her signature school overhaul program. The initiative to remake failing schools with new staff and longer days suffered major cuts due to a loss in state aid.
"Rather than make that into an issue, she really wanted to give it back to the Promise Academies," Nix said.
Wagner, the auditor general, said Tuesday he would look into the severance packages for both Ackerman and Allentown Superintendent Gerald Zahorchak. Wagner said in a news release that he has previously faulted such deals "because they appear to waste taxpayer money and because their financial terms are not fully transparent to taxpayers."
Zahorchak, a former state education secretary, resigned last week in an arrangement that allows him to keep his $195,000 salary this year, along with a $55,000 bonus, according to The Morning Call of Allentown.
Philadelphia's school commission is expected to formally approve Ackerman's buyout at a meeting Wednesday.
Commission Chairman Robert Archie Jr. and new interim Superintendent Leroy Nunery acknowledged in a joint statement that "recent events have made some key stakeholders question the leadership and direction of the school district of Philadelphia."
"We know we have work to do to earn their trust once again," they said.
Archie, Nunery and Ackerman sit on the board of the Philadelphia's Children First Fund, the nonprofit organization that handled the private donations.
A fund spokesman did not return messages seeking comment on Tuesday.
___
Kathy Matheson can be reached at www.twitter.com/kmatheson