Portland stabbing suspect, in courtroom outburst, says victim is to blame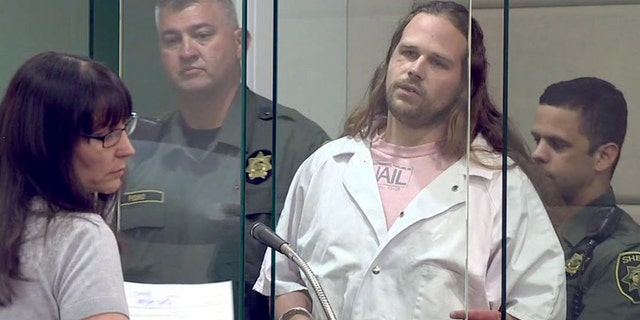 NEWYou can now listen to Fox News articles!
The man accused of killing two men and injuring a third on a Portland train shouted that the survivor was to blame during a courtroom outburst Wednesday.
As he was leaving Multnomah County Circuit Court, Jeremy Christian said he was "not guilty of anything" but defending himself "against the violent aggression by Micah Fletcher," Fox 12 Oregon reported.
Fletcher was stabbed along with Ricky John Best, 53, and Myrddin Namkai Meche, 23 – who both died – when they tried to intervene as Christian yelled hate speech at two female passengers, police said.
Christian shoved Fletcher during the incident, then pulled out a knife that he concealed in his right hand, prosecutor Ryan Lufkin wrote in court papers. Fletcher pushed Christian back, and he stumbled. Christian asked Fletcher to "Hit me again!" as Fletcher kept telling him to get off the train.
Fletcher was seated in the courtroom Wednesday amidst a heavy police presence.
KNIVES, BRASS KNUCKLES AND AXES CONFISCATED AT PORTLAND PROTESTS
In his first court appearance, Christian shouted "Free speech or die, Portland. This is America, get out if you don't like free speech."
A pro-Trump free speech rally in Portland on Sunday resulted in violent clashes as several hundred people were drawn to a plaza near City Hall following the May 26 attack.
The rally was met across the street by hundreds of counter-protesters organized by immigrant rights, religious and labor groups. They said they wanted to make a stand against hate and racism.
Rally organizer Joey Gibson held a moment of silence for the two men who were stabbed to death and pleaded with the crowd to refrain from violence. He later told them that goal is to wake up the liberty movement. "It's OK to be a conservative in Portland," he said.
PORTLAND MAN FATALLY STABBED ON TRAIN REMEMBERED AS HERO
Trump had denounced the killings as unacceptable while saluting the three victims for "standing up to hate and intolerance."
Police arrested 14 people in the clashes while seizing an arsenal of deadly weaponry, including clubs, knives, bricks and what looked like spears.
While police did not say which group, specifically, supplied the cache of weapons, law enforcement clad in riot gear had to shield themselves from rocks and other projectiles thrown by anti-Trump protesters, according to local news outlets.