Police chief admits cops should've acted before homeless man fatally stabbed father at Calif. steakhouse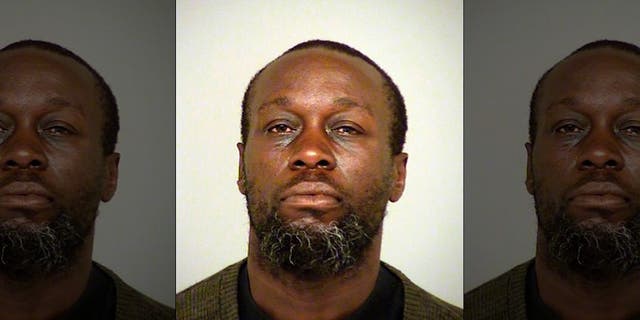 The police chief of Ventura, Calif. admitted Monday his department erred by choosing not to send officers to investigate a call about a homeless man who, just hours later, randomly stabbed a restaurant patron to death as he was holding his 5-year-old daughter.
Instead of deploying officers to check out Jamal Jackson, 49, who was reported for disruptive behavior and yelling on the city promenade, authorities remotely monitored him for more than 20 minutes on pier security cameras.
Command center staff made that decision because officers were busy, Chief Ken Corney said.
"All of our patrol units were tied up on other calls," Corney said, noting that officials in the command center watching the cameras "didn't see any behavior that appeared to be concerning or significantly disruptive."
In video released by the Ventura Police Department, a man appearing to be Jackson is approached by a couple, who seem to ask Jackson to take a photograph of them. Jackson obliges.
But Corney said Monday that the decision to never send officers to check out the call was a mistake.
"Our practice is not to handle these calls by security cameras, it is to put boots on the ground," he said, according to The Los Angeles Times.
At a Monday night City Council meeting, residents were reportedly incensed.
"We have been devastated by the fires and we are now been run out by vagrants," one person said, according to The Los Angeles Times. And a woman who said she found a homeless person with an ax at her home said bluntly: " "I cannot answer my front door anymore."
Jackson is facing a first-degree murder charge in the death of 35-year-old Anthony Mele. He was being held in Ventura County jail on a $1.5 million bail.
Mele and his wife were eating dinner with their 5-year-old daughter Wednesday at Aloha Steakhouse in the seaside city of Ventura. The girl was sitting on her father's lap when prosecutors say Jackson walked up and stabbed Mele in the neck.
Prosecutor Richard Simon said customers and a restaurant employee followed Jackson out of the restaurant, even though he still had the knife. They kept track of him until Ventura police arrived and arrested him.
Mele was taken to a hospital and died Thursday after being taken off life support.
"It's horrible," Simon said. "You don't think you're going to be killed when you go out to dinner at a nice restaurant with your family and you didn't do anything."
"We have been devastated by the fires and we are now been run out by vagrants."
Simon said the two men had not interacted before the attack.
"He was just sitting there with his daughter in his lap," Simon said. "You're not supposed to die that way."
Mele's Facebook page was filled with photos of his daughter and said he was a manager at an AT&T store.
If convicted, Jackson faces up to 55 years in prison.
The Associated Press contributed to this report.